Annie Georgina Chapman
From Jack the Ripper Wiki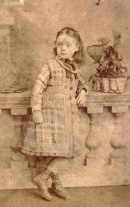 Daughter of John and Annie Chapman.
Born 5th June 1873 (possibly at 17 South Bruton Mews, Berkely Square).
Christened 27th June 1873 at All Saints Church, Knightsbridge, where she was given an additional middle name of Jane, although this was never used.
A photograph of Annie Georgina (no.3371) was taken in the early 1880s at Sutch Bros. Studio, 143 Brompton Road, Knightsbridge, London SW.
At one time, Annie Georgina was educated at a highly respected ladies' school in Windsor, paid for by one of her mother's sisters. This may well have been a boarding school and she could have been staying here at the time of her father's death in 1886.
In 1888 there were stories which claimed that Annie Georgina was in a french institution or that she had joined a travelling circus, all of which were dismissed out of hand by her family. According to the 1891 census, she was living in Kidlington, Oxfordshire, with her aunt (Annie Chapman's sister Emily) and her family and according to family tradition also worked as a servant to a court dresser prior to her marriage in 1895.[1]
She died in 1958.
References
↑ The Victims of Jack the Ripper, Neal Stubbings Sheldon (Inklings Press 2007)