William Thick
From Jack the Ripper Wiki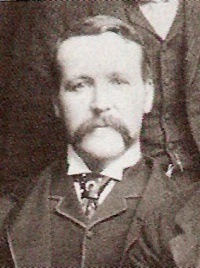 Sergeant William Thick (1845-1930)
Thick was one of the more colourful members of the investigative team and widely known by the nickname "Johnny Upright", although whether this referred to his character or posture is uncertain. He joined the Metropolitan Police in 1868 (warrant no. 49889) and, at the time of the murders, was posted to H Division. His surname is spelt with a terminal "e" by many commentators.
He is best remembered for his arrest of John Pizer, who was accused of being the suspect known as "Leather Apron", on 10 September 1888 at 22 Mulberry Street. He was particularly involved with the investigation of the Annie Chapman murder, and he gave testimony at her inquest. He was also very active in the investigation surrounding the suspect Jacob Isenschmid.
In a letter to the Home Office dated 14 October 1889, a Mr H.T. Haslewood of Tottenham accused Thick of being the Ripper.
Thick retired from the force on 23 April 1893.[1]
References
↑

Metropolitan Police Pension Register, no. 10914