Elizabeth Long
From Jack the Ripper Wiki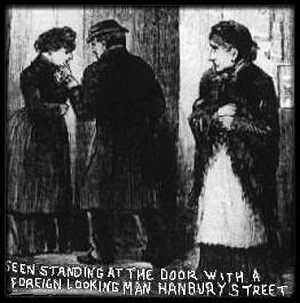 Witness at Annie Chapman's inquest.
(Name given at inquest, but also known as Mrs. Darrell or Durrell)
Born c.1841 in Bethnal Green[1]. A cart-minder living at 32 Church Street, Whitechapel[2] ; married to James Long (b.1843), also a cart-minder.
On Saturday morning 8th September 1888, Mrs Long was passing down Hanbury-street from home and going to Spitalfields Market. It was about 5:30; she was certain of the time, as the clock at the Black Eagle Brewery had just struck the half-hour when she passed 29 Hanbury Street(see below). She was on the same side of the street as No.29 and outside the house she saw a man and woman on the pavement talking. The man's back was turned towards Brick Lane, while the woman's was towards the Spitalfields Market. They were talking together, and were close against the shutters of No.29.
Mrs Long saw the woman's face, but she did not see the man's, except to notice that he was dark. She described him as wearing a brown deer-stalker hat, and she thought he had on a dark coat, but was not quite certain of that. She could not say what the age of the man was, but he looked to be over 40, and appeared to be a little taller than deceased. He appeared to be a foreigner, and had a 'shabby genteel' appearance. Witness could hear them talking loudly, and she overheard him say to the woman, "Will you?" to which she replied, "Yes." They remained there there as Mrs Long passed, and she continued on her way without looking back.
Mrs Long saw nothing to indicate that they were not sober and apparently, it was not an unusual thing to see men and women talking together at that hour, in that locality.
On 12th September, she went to the mortuary and identified the body of Chapman as being the woman she had seen on the morning of the 8th.
Apart from this sighting contradicting the evidence of Dr George Bagster Phillips, who gave the estimated time of Chapman's death as around 4.30am, it also proves problematical when compared with the evidence of Albert Cadosch. His timings would have it that he heard the noises in the backyard of No.29 before Mrs Long's sighting. One possible solution is that Mrs Long heard the brewery clock strike the quarter-hour (ie 5.15am) rather than the half-hour. This, however, remains conjecture.
Elizabeth and James appear to be living at 39 Blythe Street, Bethnal Green at the time of the 1891 census, where both are listed as cart-minders.
References
↑

Census report 1891

↑

Report by Donald Swanson, 19 Oct 1888 (HO 144/221/A49301C ff.137-45)