George Sequeira
From Jack the Ripper Wiki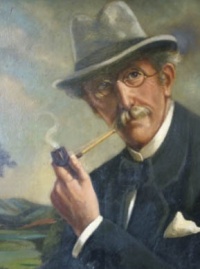 Dr. George William Sequeira.
Witness at Catherine Eddowes' inquest.
Born in 1859 in the City of London. Son of Henry Sequeira, surgeon of 1 Jewry Street[1]. LSA (London Hospital) 1886[2]. Married Georgiana Peachey in Lambeth on 22 November 1886[3]. Children Horace (1888), Ida (1891), Marion (1893), Bertha (1896)[4].

Was called from his surgery at 34 Jewry Street following the murder of Catherine Eddowes in Mitre Square, 30th September 1888, arriving at 1.55am. He pronounced life extinct, but did not make any detailed examination at the scene.
He appeared at the inquest on 11th October 1888 and said that he was well acquainted with the locality and the position of the lamps in the square:
Where the murder was committed was probably the darkest part of the square, but there was sufficient light to enable the miscreant to perpetrate the deed. I think that the murderer had no design on any particular organ of the body. He was not possessed of any great anatomical skill.
He believed that death was instantaneous owing to severence of the windpipe and blood vessels and that the murderer would not necessarily have been spattered with blood. He said that Eddowes had been dead "very few minutes" before his arrival, "probably not more than quarter of an hour"[5]. He agreed with the findings of Dr. Frederick Gordon Brown, but disagreed with Brown's belief that the killer displayed anatomical knowledge.
Dr. Sequeira observed Dr. Gordon Brown's post mortem examination of Catherine Eddowes at the Golden Lane Mortuary, accompanied by Drs. William Sedgwick Saunders and George Bagster Phillips.
He died on 14 October 1926.[6]
References