Henry Cox
From Jack the Ripper Wiki
Henry (or Harry) Cox (1859-1918).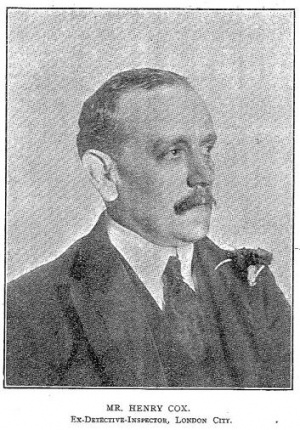 City of London CID officer (afterwards inspector) who later described the surveillance of a Ripper suspect after the murder of Mary Jane Kelly. According to newspaper accounts of his career he did some of his best work as a shadower of criminals.[1]
The Whitechapel Murders
Henry Cox's views on the murders, with an account of the surveillance of a suspect, were published in an article in Thomson's Weekly News on 1 December 1906,[2] which was one of a long series on his career.
He begins by saying that all the published portrayals of "the criminal whom the police suspected" have been woefully wrong, and in no case has the writer discovered the suspect he is about to describe, who at the time "was looked upon as a man not unlikely to be connected with the crimes". He cannot enter into the theories of his brother officers, but he has no hesitation in dispelling certain claims: that the murderer was known to the police and is incarcerated in "one of His Majesty's penal settlements", that he "jumped over London Bridge or Blackfriars Bridge" (perhaps a garbled reference to the suicide of Montague Druitt in the Thames) and that he is the inmate of a private asylum. Later in the article he also rejects the idea that the murderer was "an educated man who had suddenly gone mad".
There follows an account of the murders of Martha Tabram, Mary Ann Nichols, Annie Chapman, Elizabeth Stride, Catherine Eddowes and Mary Jane Kelly. Cox briefly suggests that the dates of the murders strengthen the theory that the murderer was a sailor who planned them to coincide with the times of departure of his vessel (an observation that he believed was original).
He then says that although the police had many people under observation at the time of the murders, it was not until Kelly's death that they "seemed to get upon the trail", when investigations made by "several of our cleverest detectives" indicated that a man living in the East End was "not unlikely to have been connected with the crimes" - a formula similar to the one used at the start of the article. Further on he adds that the opinion of most of the officers who were watching the man was that he "had something to do with the crimes". He is convinced that the motive was revenge on womankind, not "a lust for blood", and that the murderer, like his victims, belonged to the "lowest class".
There follows a description of the suspect: "The man we suspected was about five feet six inches in height, with short, black, curly hair, and he had a habit of taking late walks abroad. He occupied several shops in the East End, but from time to time he became insane, and was forced to spend a portion of his time in an asylum in Surrey."
Cox adds that he was on duty in the street where the suspect had his place of business for nearly three months after the last murder (presumably meaning that of Kelly). The officers allayed the suspicions of the Jewish inhabitants of the street by telling them that they were factory inspectors investigating the exploitation of children by tailors and capmakers. They had the use of a house opposite the suspect's shop, and often visited it in disguise, posing as customers.
He then relates how he shadowed the man one night. Waiting until the man had left the street before emerging, he followed him to Leman Street, where he visited a shop which was the abode of known criminals, then to St George's in the East, where he accosted a woman, then to the neighbourhood of "the model lodging-house", where he met another woman and walked with her before pushing her away and returning home.
Cox comments that the crimes ceased as soon as the man was put under observation, and that he soon "removed from his usual haunts and gave up his nightly prowls". But then he adds that "not the slightest scrap of evidence" could be found against him, and that the police continued to investigate the crimes long afterwards. He concludes by saying that the crimes are as much a mystery as they were "fifteen years ago", that the theories of amateur detectives are based on nothing more than surmise, and that the murderer will be identified only if he confesses and proves himself guilty, or if he kills again and is caught red-handed. Finally he says that he has no evidence as to whether the murderer is alive or dead.
Biography
Henry Cox was the son of William Cox, a compositor, (born c. 1824 in the parish of St Andrew, Holborn) and his wife Sophia Elizabeth (nee Whitmore, born c. 1828 in Westminster). William and Sophia were married at Clerkenwell in the fourth quarter of 1846. Henry's birth was registered in the third quarter of 1859 at Camberwell, and he was baptised on 21 Aug 1859 at St Mary, Lambeth. In the 1871 census the family was recorded at 31 Southampton St, Camberwell, and in 1881 at 169 Camden Grove North, Camberwell, when Henry was described as a "Zinc Worker", with "Plumber And Gasfitter" added above.[3] In one instalment of his memoirs, Henry Cox described his father as "at one time a compositor, and latterly the editor of his own paper."[4]
On 21 July 1881 he joined the City Police as a constable.[5]
In the fourth quarter of 1882 he was married to Martha Sally Vidler in the City of London. She was the daughter of Charles Vidler (c. 1835-1878) and Lucy Jane Cluer (b. c. 1840, m. 1858), and was born c. 1866 in the City of London.[6]
Henry and his wife Martha had thirteen children[7]:
Grace Florence, b. 1884
Elsie Constance, b. 1885
Henry Vidler, b. 1887
Ernest Whitmore, b. 1890
Jesse Reginald, b. 1891
Cecil Cluer, b. 1893
Jack Charles Douglas, b. 1894
Allan Maurice, b. 1897
Joan Estelle Jeddah, b. 1898
Philip Anthony, b. 1900
Sybil Yolande, b. 1902
Maude Rosemary, b. 1904
Donald Mervyn, b. 1910
In 1884 he went on to plain clothes duty.[8]
Between 1884 and 1887 the births of the three eldest children were registered in the City of London.[7] They were baptised at St Bride's, Fleet Street, on 22 April 1888, when Henry gave his address as 72 Fleet Street.[9] The births of the next four, between 1890 and 1894, were registered at Hackney.[7] In the 1891 census the family was recorded at 65 Frampton Park Road, Hackney.[10]
In September and October 1890 he was involved in the investigation of George Johnson and John Phillips, who were convicted of attempting to defraud the banking firm of Drexel, Morgan and Co., a case in which Robert Sagar was also involved. After his retirement, Cox described how he had shadowed Johnson and so discovered where he lived. Comparison with the contemporary record of the trial reveals some inaccuracies in Cox's account, and perhaps a tendency to exaggerate the importance of the role he played in the investigation.[1][11]
On 25 April 1893, soon after he was transferred to the Head Detective Office, he was promoted to Detective Sergeant, in charge of Seething Lane Police Station. Three years later he was promoted to Detective Inspector and transferred back to Headquarters.[12]
Between 1897 and 1902 the births of four more children were registered at Sevenoaks, Kent (they were later said to have been born variously at Sevenoaks, Westerham or Chevening).[7] In the 1901 census the family was recorded at South View, Westerham, Kent.[13] Soon afterwards the family moved back to London. The births of the two youngest children, in 1904 and 1910, were registered at Lewisham (the younger being born at Forest Hill).[7]
In March 1902 he arrested Harry Davenport, one of a notorious gang of forgers of £5 notes.[1][14]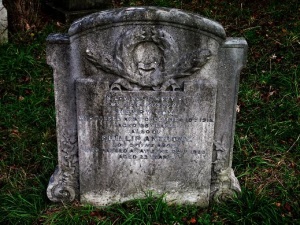 In 1903 he arrested Samuel Herbert Dougal, later convicted of the murder of Camille Holland at the Moat Farm, after he was detained at the Bank of England on a charge of presenting a cheque forged in the name of his victim. According to Cox, Dougal tried to escape when they reached Old Jewry Police Station, but was recaptured after he ran into a cul-de-sac.[1][15]
On 26 July 1906 he retired after 25 years' service.[5] On the same day the Evening News published an article containing anecdotes of his experiences[1], and on 7 December 1906 the Police Review gave an account of his career, based partly on the same material.[15] A series of weekly articles on his career entitled "Some Famous Cases from my Notebook" appeared in Thomson's Weekly News, running from 8 September 1906 to 2 March 1907, and including on 1 December "The Truth about the Whitechapel Mysteries". It was followed by a shorter series, running from 6 April to 11 May 1907, entitled "My Experiences as a Lady Detective" by his daughter Constance, who appears to have assisted him in private detective work after his retirement.
In the 1911 census the family was recorded at 177 Stanstead Road, Forest Hill. By the date of his will, January 1916, Henry was living at 17 Park Road (later Waldram Park Road), Forest Hill. He died on 18 December 1918 at Charing Cross Hospital, and was buried at Ladywell Cemetery in Lewisham. His will mentions a presentation clock and medals presented to him in Queen Victoria's jubilee year and at the coronations of Edward VII and George V.[16]
His widow Martha Sally was still living at 17 Waldram Park Road at the time of her death on 16 March 1943.[17]
References
↑ Originally discovered by Nick Connell, and reprinted in Evans and Skinner, The Ultimate Jack the Ripper Sourcebook, pp. 703-709 (2000).
↑

Census returns, 1871 (RG 10/737, f. 130v; p. 4) and 1881 (RG 11/696, f. 139; p. 29); index entry for the marriage of William Cox and Sophia Elizabeth Whitmore (December quarter 1846, Clerkenwell, 3 86); index entry for the birth of Henry Cox (September quarter 1859, Camberwell, 1d 445); family information concerning his baptism.

↑

Thomson's Weekly News, 3 November 1906.

↑ 5.0 5.1

City Police Warrant Book at London Metropolitan Archives. Unfortunately Henry Cox's personnel file does not appear to have survived.

↑

Index entry for the marriage of Henry Cox and Martha Sally Vidler (December quarter 1882, London City, 1c 61); Census return, 1881 (RG 11/674, f. 58; p. 45).

↑

According to the Police Review, 7 December 1906, he was in uniform for "nearly three years".

↑ Image of parish register at Ancestry.co.uk.
↑

Census return, 1891 (RG 12/195, f. 94; p. 52).

↑ His promotion and posting at 5th Division are recorded in the City Police Order Book, December 1892-January 1894. Police Review, 7 December 1906, gives the interval of three years. In the Old Bailey Proceedings he is described as a sergeant until July 1894, and as an inspector first in May 1896.
↑

Census return, 1901 (RG 13/748, f. 121; p. [?]23).

↑ [New Zealand] Star, 2 May 1902 (Scan of article at Papers Past).
↑ 15.0 15.1 Police Review, 7 December 1906 (Scan of article at Casebook).
↑

Index entry for the death of Henry Cox (December quarter 1918, St Martin, 1a 1108); probate of will, London, 6 February 1919.

↑

Probate of will, Llandudno, 27 May 1943.