John Richardson
From Jack the Ripper Wiki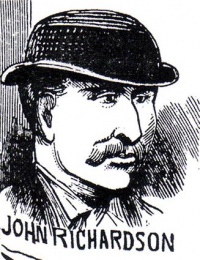 Witness at Annie Chapman's inquest.
Born c.1853, living at 2 John Street, Spitalfields. Son of Amelia Richardson, working for her packing case business and as a porter at Spitalfields Market.
At about 4.45am on 8th September 1888, he called at 29 Hanbury Street on his way to work in order to check that the cellar doors in the backyard were secure (a few months previously, the cellar had been broken into and a saw and a hammer were stolen). He also occasionally checked the house itself to make sure that the stairs and landings were not being used by prostitutes and their clients.
Looking out of the door to the backyard, he satisfied himself that the cellar was secure. He then sat on the second step leading down into the yard in order to cut a piece of leather from his boot which had been hurting him. He would have been a mere yard from where Chapman's body was discovered but did not see anything. He was no more than three minutes at the house and although it was only just getting light, he could see all round the yard, believing that had the deceased been lying where she was later found, he most certainly would have seen her.
He was later informed by a man named Pearman that a murder had taken place in Hanbury Street and arrived in time to see the body a few minutes before the arrival of Dr. George Bagster Phillips.
Richardson was asked to produce his knife at the inquest (he usually used it to cut carrots to feed his rabbit) which was satisfied that it could not have been the weapon that inflicted the injuries on Chapman.
The timing of John Richardson's visit, re- his statement, contradicts the evidence of Dr.Phillips who estimated the time of death as being around 4.30am.