Openshaw Letter
From Jack the Ripper Wiki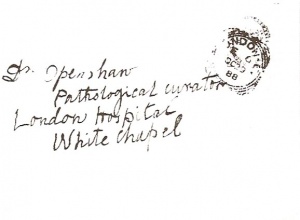 Alleged communication from 'Jack the Ripper', sent to Dr. Thomas Horrocks Openshaw at the London Hospital on 29th October 1888. Dr. Openshaw had recently analysed the Lusk Kidney which had been sent - along with the Lusk Letter - to George Lusk of the Whitechapel Vigilance Committee on 16th October.
The envelope was addressed to 'Dr. Openshaw, Pathological curator, London Hospital, Whitechapel' and was postmarked 'LONDON E', 'OC29 88'.
Transcription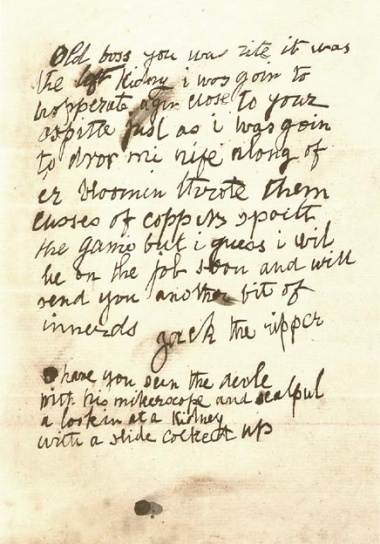 Old boss you was rite it was the left kidny i was goin to hoperate agin close to you ospitle just as i was going to dror mi nife along of er bloomin throte them cusses of coppers spoilt the game but i guess i wil be on the jobn soon and will send you another bit of innerds
Jack the Ripper
O have you seen the devle with his mikerscope and scalpul a-lookin at a kidney with a slide cocked up.
Reception & Opinion
There appeared to be little coverage of the receipt of this letter in the press at the time, quite possibly owing to the sheer number which were arriving at various establishments on a regular basis). The handwriting of this letter has drawn comparisons with that of the Lusk Letter and though there are stylistic similarities, the resemblance between the two is not overwhelming. It appears that the author feigned illiteracy and it is worth noting that the word 'hospital' is spelt correctly on the envelope but incorrectly in the letter itself[1].
Comparison has also been made with the postscript ('O have you seen the devle...') and various folk songs, of which the extract below is only one example:
Did you ever see the devil with his wooden spade or shovel,
Did you ever see the devil with his tail cocked out?[2].
The letter was also used by author Patricia Cornwell during her investigation into Walter Sickert being the Ripper[3]. She noted that the paper used for this letter came from the same manufacturers as paper used by Sickert. Mitochondrial DNA extracted from the stamp on the envelope was also, according to Cornwell, the same as that found on other Sickert letters. Mitochondrial DNA, however is not a definitive test of identity and the sequence found by Cornwell and her team could be from one of over 400,000 individuals[4]
Status
The Openshaw Letter was in the possession of former City Police Officer and author Donald Rumbelow until 2001 when he donated it to the Public Record Office (National Archives). A copy of it is on display with other Ripper-related items in the Royal London Hospital's museum in Newark Street, Whitechapel.
References
External Links
'Patricia Cornwell and Walter Sickert: A Primer', Stephen P. Ryder
Jack the Ripper "letter" made public Article from BBC News
Note from 'the Ripper' released after 112 years The Independent, Friday, 20 April 2001