Thomas Horrocks Openshaw
From Jack the Ripper Wiki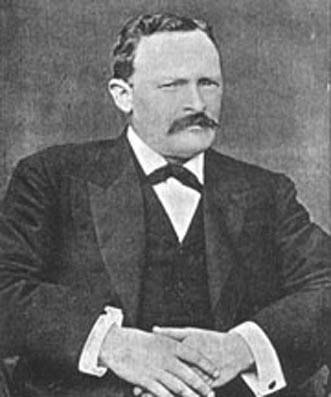 Dr. Thomas Horrocks Openshaw, CB, CMG, FRCS, LSA, TD.

Born 17th March 1856 in Bury, Lancashire. Married Selina Gertrude Pratt (b.1858, Oxford) in 1890. They had one son and one daughter.
Openshaw was educated at Bristol Grammar School. He originally trained as an engineer before entering Durham University to study medicine. He entered the London Hospital Medical College in 1877, where he was noted as a successful student. In 1879 Openshaw won the Outpatient Dresser's Prize of £15, awarded to the best dresser of wounds in the Outpatients Department.He was awarded an MBBS (Durham) and became a Member of the Royal College of Surgeons in 1883. In 1886 he became a fellow. His other qualifications included Licentiate of the Society of Apothecaries and Master of Surgery (Durham). Following his Fellowship, he was appointed Assistant Demonstrator of Anatomy at the London Hospital Medical College and, after his appointment as Curator of the Pathology Museum in 1887, he extended and catalogued the Museum's collection of pathological specimens, thereby creating an important research facility for the College's medical students.[1]

Dr. Openshaw examined the Lusk Kidney which was brought to him by Mr. Francis Reed on 18th October 1888. Openshaw's opinion on the kidney was misquoted in the press[2], stating that it was the 'ginny' kidney of a 45-year old woman and had been extracted at a time which fitted with the murder of Catherine Eddowes in Mitre Square. He immediately attempted to set the record straight and in subsequent interviews merely stated that the kidney was human and that it had been placed in spirits of wine after removal from the body[3].
He received a letter signed 'Jack the Ripper' on 29th October 1888, which alluded to his examination of the kidney (See Openshaw Letter for further detail).
Openshaw was appointed surgeon to the Volunteer Medical Staff Corps in 1888 and travelled to South Africa as surgeon to the Imperial Yeomanry Field Hospital to tend the wounded of the Boer War. He was taken prisoner and on his release, became Principal Medical Officer at the Number Three Medical School Hospital, Pretoria. In recognition of his medical services in the war, he was awarded the Companion of the Most Distinguished Order of St Michael and St George (CMG).
During the First World War, he was appointed as consulting surgeon with the rank of colonel, to the Eastern Command of the Royal Army Medical Corps (Territorial Force). In 1917, he was awarded the Companion of the Most Honourable Order of the Bath (CB).
He was a keen cyclist and angler, as well as a good footballer. As an active Freemason, he helped found the London Hospital Lodge.
Openshaw developed diabetes later in life and died of pneumonia on 17th November 1929.
References
↑ The Times, 19th October 1888
↑ The Star, 19th October 1888
External Links
Jack the Ripper "letter" made public Article from BBC News
Master surgeon, photographer, cyclist and angler
Note from 'the Ripper' released after 112 years The Independent, Friday, 20 April 2001