The Bell
From Jack the Ripper Wiki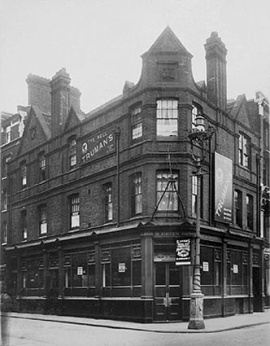 Public House, 50 Middlesex Street, London E1 7EX.
(Previously 106 Middlesex Street before 1901).
In 1888, the landlord was William Rose and it was a Truman's house. Following William's death it was taken over by his wife Sarah who was listed until 1899.[1]

Situated on the corner of Middlesex Street (Petticoat Lane) and New Goulston Street, the age of 'The Bell' is unclear - in the mid 18th-century, a Black Bell Alley stood on the site of the present pub[2]. Whether it was named after this long-demolished thoroughfare or after nearby Bell Lane is unclear. The current structure dates from the 19th century. A depiction of a bell can be seen in the decorative brickwork at the top of the building on the corner.

It was at 'The Bell' where Head Barman William Steer saw Frances Coles and James Sadler on the late afternoon of 12th February 1891. They only stayed for an hour, but in that time Steer spoke briefly to Sadler about their familiarity with Shadwell before he and Coles left at about 5.30pm.[3]
For many years, 'The Bell' was the only public house on Petticoat Lane. Urban myth has it that one night during a Second World War air-raid, a bomb fell close to the pub, shifting the entire building on its foundations. It was full of customers at that time, none of whom felt disposed to leave, preferring the hospitality within to the falling incendiaries outside.[4]

It was renamed 'The Market Trader' in 1997. The pub is also alleged to be haunted, with footsteps, ghostly figures and lights turning themselves on and off being some of the phenomena reported[5].
In May 2009, after a small delay owing to problems with the licence, it reopened as 'The Bell'.
References
External Links