James Sadler
From Jack the Ripper Wiki
James Thomas Sadler, commonly known as Thomas, or 'Tom' Sadler.
Lover of Frances Coles, witness at her inquest and suspect.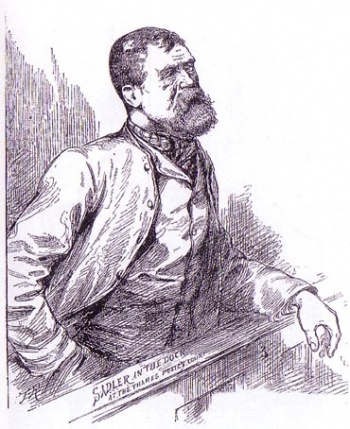 Born c.1838, Stepney. James' mother Mary (b.1819) was widowed early in his life. Her husband, James Meal Sadler (a Solicitors Head Clerk in Chancery practice, Lincoln Inn Fields), succumbed to consumption at the age of 27 when James Thomas was 3 years of age. [1]. The middle name of James Thomas's father, Meal, was in fact the name of Sadlers Grandfather, Captain Meal. Who was, again according to Sadlers Mother, part owner of several vessels within the Yarmouth area of Norfolk.
It seems as if Sadler was the eldest of two, as his mother states that her younger son died of consumption of the lungs whilst in infancy. During his formative years he and his Mother resided in Jubilee Street, a street that connected the Mile End Road to Commercial Road. Mrs Sadler stated that she had taught Tom to 'read words but not to write' when, at the age of 9, Tom was admitted to Primrose School and stayed till the age of 15. Upon leaving school, Tom started work as an Under Clerk in London Docks.[2]
However it seems he became bored with life on land and dreamt of the exotic travels the sea could offer him. His Mother was reluctant to let her son sail however he ignored her concerns and took to a life of sailing. Mrs Sadler later stated she "..bitterly regret the day that he sailed". However Sadler was good to his mother, and sent home to her half his pay when at sea, handing the exact amount to her upon arrival on shore. His life at sea was interspersed with periods of work upon land. He was a chiefly a labourer in tea warehouses and lodged with his mother in Kingsland, or various lodging housing in the East End, when ashore and working.
He married Sarah Maria Chapman (b.1851, Stoke, Rochester, Kent) in 1876[3] but already had one child, Ruth (b.1873, Chatham). Ruth was later joined by Daisy (b.1880, Stepney) and Primrose (b.1884).[4]

Information about married life with Sadler was given by his wife (then living at 3 Skinner Street, Chatham, Kent) in a report taken by Chief Inspector Donald Swanson on 21st February 1891.
They met in Chatham when James was a sailor and were married at St.John's Church, Chatham. After their marriage, they went to live in Elephant & Castle, South London and at this time, he was working as a labourer at Torr's Tea Warehouse, Cutler Street, Houndsditch. However, Sadler did not like crossing London Bridge and so they moved to a house in Buck's Row, Whitechapel. The house, situated somewhere near the middle of the Row, was shared with some Brush Makers who worked in the Minories. They later moved to 77 Tetley Street, Poplar, when Sadler briefly became a conductor. Whilst living there, Sarah took a knife from her husband, refusing to say where she had hidden it.
From Poplar they moved to a corner shop in Hurley Road, Lower Kensington where Sadler ran a business as a greengrocer. From there they went to Manor Street, Walworth and at this time, Sadler was working at a bed warehouse in Cutler Street. They did not stay in Walworth long, moving to Colebrook Terrace, Bethnal Green. By 1888, they were living at 2 Johnson Street, Commercial Road and they separated in August of that year after a quarrel. On 15th August, Sarah Sadler left London to live with her mother in Chatham.
Around March 1889, Sarah suddenly heard from her estranged husband who had written a letter suggesting they meet at Fenchurch Street Station on a Saturday. The meeting took place (although she was late) and they spent their time together looking round shop before staying at a Coffee House opposite Mile End Gate. Sadler had to work the following day (Sunday), but they met again at 5.00pm. They went to a public house in Whitechapel where, after having a few drinks, Sadler began to quarrel with some customers. Sarah walked out and waited for him outside and when he emerged they began to argue. She suggested they go their separate ways, but Sadler wanted to take her to a place 'where a woman had been murdered', something she was not that keen to do. Sarah ran away when they got near Whitechapel Church, but James caught up with her and offered to take her to an eelshop for a meal, in order to make up for the quarrel. After eating, they returned to the Coffee House in Mile End Gate where they stayed until the Monday morning. Mrs Sadler then went back to Chatham.
As to James' character, Sarah said that he could be as good or as difficult as he wanted to be. He was irritable when drunk - after smashing things on one occasion, he was sorry after the event. Sometimes he would come home from work at 8.00pm and had usually had drink by then and was therefore not somebody who tended to stay out at night. She refused to say whether he had ever assaulted her. He occasionally visited her in Chatham, staying anything from one day to a whole week.[5]
Though their marriage disintegrated, the couple did have at least some children. The youngest was Primrose, 6 years old in 1891, and then came Daisy who was 11 years old. The eldest, Ruth, was 14 and in service by that time. There are reports of two boys but it would appear that unfortuantely both were dead by 1891.[6].
According to the 1881 census, the family were living at 95 New Road, Whitechapel, where James was listed as a Dock Labourer.

Following the murder of Frances Coles, Sadler was made to give an account of himself as a possible suspect for the crime. On 14th February 1891, after being found by Sergeant John Don at the Phoenix public house, Upper East Smithfield, he gave a statement to Chief Inspector Swanson - the statement is exhaustive and Saddler covers his relationship with Coles, the times when he was at sea, as well as his movements on the night of 12th-13th February. It was read out at the inquest on 23rd February and is quoted here in full:
Swallow Gardens Murder - James Thomas Saddler of Davies Boarding House, East Smithfield, says, I am a fireman and generally known as Tom Saddler. I was discharged at 7pm 11th. inst. from S.S. Fez. I think I had a drink of Holland Gin at Williams Brothers at the corner of Gouldston Street. I then went at 8.30pm to the Victoria Home. I then left the house and went into Princess Alice between 8.30 and 9pm. I saw a woman, (whom I had previously known./ named Frances.) I had known her for eighteen months. I first met her in the Whitechapel Road and went with her to Thrawl Street, a lodging house, and I stayed with her all night; having paid for a double bed at the Lod: Ho: I don't remember the name of the Lod: Ho: where I then stayed with her. I think I then took a ship the name of which I do not now remember, I did not see this woman again until I saw her in another bar of the Princess Alice, and recognising her, I beckoned her over to me. There was nobody with her. She asked me to leave the pub: ho: aswhen she had got a little money the customers in the pub: ho: expected her to spend it amongst them. We left the Princess Alice, and went round drinking at other pub: hos:. Among other houses I went to a house at the corner of Dorset Street, where another woman (named Annie Lawrence) joined us. This is the woman pointing to Annie Lawrence who was making a statement in the CID Office. Frances stopped me from treating this woman, and we then went to White's Row Chamber. I paid for a double bed and we stayed the night there. [marginal note -"Wed. night"] She had a bottle of whiskey (half pint) which I had bought at Davis, White Swan, Whitechapel. (I took the bottle back yesterday morning and the woman (barmaid) gave me twopenny-worth of drink for it.)
Frances and I left Whites Row Chambers between eleven and twelve noon, and we went to a number of pub: hos: one of which was [A] the "Bell", Middlesex Street. We stayed there for about two hours drinking and laughing. When in the "Bell" she spoke to me about a hat which she had paid a shilling off. a month previously. We then went [.][C] on the way to the bonnet shop, drinking at the pub: houses on the way. The shop is Whites or Baker's Row and I gave her the half a crown, which was due for the hat, and she went into the shop. She came out again and said that her hat was not ready, the woman is putting some elastic on. We then went into a pub: house in Whites or Bakers Row, and we had more drinks. Then she went for her hat, and got it. and brought it to me at the pub: ho: and I made her try it on.. I wanted her to throw the old one away, but she declined, and pinned it on to her dress. Then went to [D] the "Marlborough Head" pub: Ho: in Brick Lane and had some more drink. I was then getting into drink and the landlady rather objected to Frances and me being in the house. I can't remember what the landlady said now. I treated some men in the house, I can't say their names. I had met them previously in the same house. From there I had an appointment to see a man Nichols in Spital Street, and I left her there to see Nichols, arranging to meet her again at a pub: ho: where I cannot say now, for I have forgotten it.
We came down Thrawl Street and while going down a woman with a red shawl struck me on the head and I fell down, and when down I was kicked by some men around me. The men ran into the lod: houses and on getting up I found my money and my watch gone. I was then penniless, and then I had a row with Frances for I thought she might have helped me when I was down. I then left her at the corner of Thrawl Street; without making any appointment that I can remember. I was downhearted at the loss of my money, because I could not pay for my bed. I then went to [F] the London Docks, and applied for admission, as I wanted to go aboard the S.S. Fez. There was a strict Sergeant inside the gate and a Constable. They refused me admission as I was too intoxicated. I cannot remember what hour this was as I was dazed and drunk. There was a Met. Police officer near the gate, a young man. I abused the Sergeant and Constable, because they refused me admission. There were some dock labourers coming out, one said something to me, and I replied abusively, and one of the labourers took it up saying, If the (Met) policeman would turn his back, he would give me a d-good hiding. The policeman walked across the road across Nightingale Lane, towards the Tower way, and as soon as he had done so, the labourers made a dead set at me, especially the one who took my abuse. This one knocked me down & kicked me, and eventually another labourer stopped him. I then turned down [H] Nightingale Lane, and the labourers went up Smithfield way. I remained in Nightingale Lane for about a quarter of an hour feeling my injuries. I then went to the Victoria Lod: Ho: in East Smithfields and applied for a bed but was refused [G] as I was so drunk, by the night porter, a stout fat man. I begged and prayed him to let me have a bed but he refused. To the best of my belief I told him I had been knocked about. He refused to give me a bed and I left, and wandered about. I can't say what the time was.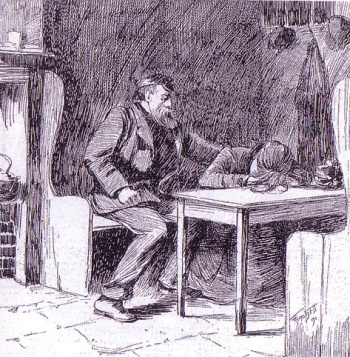 I went towards Dorset Street. I cannot say which way, but possibly Leman Street way. When I [E] got to Dorset Street I went into the Lod: Ho: where I had stopped with Frances on the previous night and found her in the kitchen, sitting with her head on her arms. I spoke to Frances about her hat. She appeared half dazed from drink and I asked if she had enough money to pay the double bed with. She said she had no money and I told [her] I had not a farthing but I had four pounds 15/- coming to me. I asked her if she could get trust, but she said she couldn't. I then went to the deputy and asked for a night's lodgings on the strength of the money I was to lift next day, but was refused. I was eventually turned out by a man, and left Frances behind in the house.
I then went, to the best of my belief, towards London Hospital, and [J] about the middle of Whitechapel Road a young policeman stopped me and asked where I was going, as I looked in a pretty pickle. I said I had two doings last night, one in Spitalfield and one at the docks. I said I had been cut and hacked about with a knife or bottle. Immediately I mentioned the word knife, he said "Oh have you a knife about you", and he there and then searched me. I told him I did not carry a knife. My shipmates, one Mat: Curley, and another named Bowen know that I have not carried a knife for years. The policeman helped me across the road towards the hospital gate. I spoke to the porter but he hummed and hawed about it, and I began to abuse him. However he did let me in and I went into the Accident Ward and had the cut in my head dressed. The porter asked if I had any place to go, and I said "No" and he let me lay down on a couch in the room where the first accidents are brought in. I can give no idea of the time I called at the hospital. When he let me out, somewhere between six and eight in the morning I went straight to the Victoria Upper East Smithfield and stayed there all day as I was miserable. The furthest I went out was the Phoenix about twelve doors off. I spent the night there, and I was there this morning. I had gone to the Phoenix this morning to have drink and I was beckoned out and asked to come here (Leman Street) and I came.
As far as I can think it was between five and six that I was assaulted in Thrawl Street; at any rate it was getting dark and it was some hours after that. that I went to the London Docks. I forgot to mention that Frances and I had some food at [B] Mrs. Shuttleworths in Wentworth Street.
My discharges are as follow -
last discharged 11.2.90 [sic-91] in London ship "Fez"
next discharge 6.9.90 London
next discharge 15.7.90 London
next discharge 27.5.90 Barry
next discharge 1.10.89 London
Next 2.10.88 London
Engaged 17.8.88
Next 5.5.87
Engd. nx. 24.3.87 London.
The last I had seen of the woman Frances was when I left her in the lod: ho: when I was turned out. The lod; house deputy can give you the time.
The clothes that I am now wearing are the only clothes I have. They are the clothes I was discharged in, and I have worn them ever since. My wife resides in the country, but I would prefer no to mention it.
The Lodging House I refer to is Whites Row, not Dorset Street. It has a large lamp over it. Passing a little hackster shop at the corner of Brick Lane and Browns lane. I purchased a pair of earrings, or rather I gave her the money and she bought them. I think ske gave a penny for them.
This statement was read over to Saddler, who said it was correct as far as he could recollect
Donald S Swanson Ch Inspr. T. Arnold Sup.[7][8]

In a subsequent press report, further details about Sadler were revealed:
"Further enquiries into Sadler's antecedents reveals that he has a wife at Chatham, and is believed to have been in the Hong Kong police, and also in the intervals of his voyages acted as a tram driver and conductor in the East of London. In yesterday's Daily Telegraph it was proved that he was in London on July 17th 1890 - the date of the Castle-alley murder [sic], and left two days later in the Loch Katrine for the Mediterranean..."[9]

James Sadler was arrested on Sunday 15th February 1891 for the murder of Frances Coles and charged the following day. The notion that he was also being suspected of the other Whitechapel Murders is borne out by the fact that he appeared in a line-up in which a witness to a previous case (possibly Joseph Lawende[10])was used, although after confronting Sadler, the witness failed to identify him[11]. He also had alibis for the previous murders, satisfying police that he was on board the Winestead from August 17th to 1st October 1888.[12]

Sadler received legal representation from the Seaman's Union who had collected some strong witnesses in his favour; as a result, charges against him were dropped on 2nd March before the case could go to court. He obviously continued his casual existence and was recorded as staying at the Victoria Working Men's Home in Commercial Street on the night of April 5th 1891, where he was listed as a Marine Fireman. Sarah Sadler was at Skinner Street, Chatham, with her mother and two of her daughters at this time.[13]

The police, however, appeared to show a continued interest in James Sadler. By May of 1891, James and his wife were living together again at 121 Danbrook Road, Streatham where they kept a chandler's shop, apparently financed with money that Sadler received from the newspapers following his acquittal for the Coles murder. Sarah Sadler wrote to the police on 10th December 1891 regarding an assault on her by her husband. It was quickly investigated - reports state that Sadler had not only assaulted his wife and treated her cruelly, but that he also threatened to take her life. James Moffatt, the lodger, described Sadler as 'a treacherous and cowardly man' and feared him enough to ensure the door to his room was locked every night.[14]

Mrs. Sadler did not press charges against her husband, but was grateful for the posting of a police officer in view of the house. The matter died off for several months until the elderly lodger James Moffatt wrote to the police in March 1892, once again concerned about James' aggressive behaviour towards his wife[15]. After Sadler had threatened to murder Sarah ('cut her throat') on 9th May 1892, he was summonsed before Lambeth Police Court on 16th May where he was bound over to keep the peace.[16]

In January 1893, James Sadler informed the police that he had left the shop at Danbrook Road and had taken lodgings at 108 Faraday Street, Camberwell[17]. It is not entirely clear when he died, although the death of a James Sadler is registered in Wandsworth in 1910[18] and a Thomas Sadler in Camberwell in 1906.[19]
References