Joseph Lawende
From Jack the Ripper Wiki
Joseph Lawende (also known as Lavender) (9 February 1847-9 January 1925).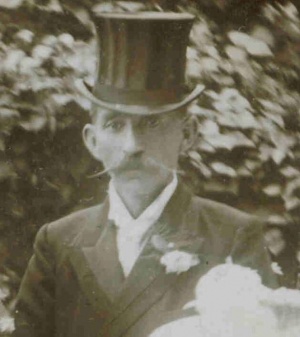 Witness who, with Joseph Hyam Levy and Harry Harris, saw a man and woman standing at the corner of Duke Street and Church Passage, leading to Mitre Square, at around 1.35 a.m. on the morning of 30 September 1888, about ten minutes before the body of Catherine Eddowes was discovered in Mitre Square.
Lawende and Levy were identified as witnesses as a result of a house-to-house enquiry made in the vicinity of Mitre Square on the orders of Inspector Edward Collard, on either 30 September or 1 October.[1]
On 9 October the Evening News printed a report on the three witnesses, describing Lawende as "Joseph Levander, commercial traveller in or manufacturer of cigarettes, whose business premises are in St. Mary Axe, corner of Bury street". The reporter seems to have interviewed Levy and Harris, but he commented that the police had "taken exclusive care of Mr. Joseph Levander, to a certain extent having sequestrated him and having imposed a pledge on him of secrecy. They are paying all his expenses, and one if not two detectives are taking him about. One of the two detectives is Foster."[2]
Lawende gave evidence at Eddowes's inquest on 11 October.[3]
Described as a commercial traveller of 45 Norfolk Road, Dalston, he testified that the three men were prevented from going home because it was raining. They went out of the club at about 1.30 a.m. (fixed by the club clock and Lawende's watch), and left the building about five minutes later. According to one report, Levy said that "the court ought to be watched". The couple was standing at the corner of Church Passage, which led from Duke Street to Mitre Square. The woman was standing with her back to Lawende, wearing a black jacket and black bonnet. He had been shown Eddowes's clothing at the police station, and believed it was the same he had seen on the woman (thus most reports of his testimony, though some say only that he recognised them as the sort of dress worn by the woman, or that they looked like the clothes she was wearing). The woman appeared to be short (about five feet high according to one report), and the man was taller. The woman had her hand on the man's chest, but not as if to push him away. They did not appear to be quarrelling, but conversing quietly - Lawende did not hear a word they said. He did not look back to see where they went.
Description given by Lawende and attempts to identify suspects
The first publication of the description of the man seen by Lawende was in the Times on 2 October - "of shabby appearance, about 30 years of age and 5ft. 9in. in height, of fair complexion, having a small fair moustache, and wearing a red neckerchief and a cap with a peak".[4]
But otherwise the description does not seem to have been circulated widely immediately after the murder. The article in the Evening News on 9 October criticised what it called the "idiotic secrecy" of the police, which had caused a delay in making public the partial descriptions provided by the witnesses.[2] (The following month, an article in the Daily Telegraph criticised the fact that the description had been circulated among the police but withheld from the public. The article suggested that the aspect the police had particularly wished to suppress was the suspect's resemblance to a sailor.[5])
At the inquest, Lawende said he doubted whether he would know the man again (and this is also stated in police reports - McWilliam[6]; Swanson, 6 November[7]). He said in court that he had "a cloth cap on with a cloth peak" (and according to one report that he "looked rather rough and shabby"), but Henry Crawford, the City Solicitor, requested that no further description of the man should be given.
The description of the man seen by "two men coming out of a club" is given in a report by Donald Swanson, dated 19 October 1888, as "age 30 ht. 5 ft. 7 or 8 in. comp. fair fair moustache, medium built, dress pepper & salt colour loose jacket, grey cloth cap with peak of same colour, reddish handkerchief tied in a knot, round neck, appearance of a sailor." [8] Essentially the same description was eventually published in the Police Gazette on 19 October 1888. [9]
Another version of the man's description is given in an undated Home Office document written in or after July 1889: "Age 30 to 35. Height 5ft. 7in., with brown hair and big moustache, dressed respectably. Wore a pea jacket, muffler and a cloth cap with a peak of the same material."[10]
Lawende evidently made an unsuccessful attempt to identify James Sadler after the murder of Frances Coles in February 1891. This was reported in the press, with the unnamed witness being described as "Probably the only trustworthy description of the assassin", having seen him with a woman at the corner of the passage leading from Duke Street to Mitre Square on the night of Eddowes's murder. The report then gave a description almost identical to the one in the undated document mentioned above.[11]
Yet another version of the description was published in 1892: "A man of thirty-five, standing 5ft 7in to 5ft 8in, rather square shoulders, clean shaven with the exception of a heavy moustache, inclining to be sandy." The description of the moustache, which disagrees with other versions, may have been added in an attempt to strengthen the case against Frederick Deeming, who was the subject of intense speculation at the time. Unaccountably, it was claimed in the press that this description had hitherto been kept secret. [12]
It has been suggested that Lawende was the witness later claimed by Sir Robert Anderson to have identified a Polish Jewish suspect as the Ripper.[13] It has also been suggested that he was probably the witness who reportedly identified William Grant after he was arrested for wounding Alice Graham in February 1895, that witness being described as the "one person whom the police believe to have actually seen the Whitechapel murderer with a woman a few minutes before that woman's dissected body was found in the street".[14]
Two decades after the murder of Eddowes, in his memoirs, Sir Henry Smith gave an account of Lawende that is evidently partially inaccurate. He called him "a sort of hybrid German", and gave - presumably from memory - another version of the description of the man he saw: "Young, about the middle height, with a small fair moustache, dressed in something like navy serge, and with a deerstalker's cap - that is, a cap with a peak both fore and aft." Smith also commented on Lawende's demeanour when being interviewed by the police: "I think the German spoke the truth, because I could not "lead" him in any way. "You will easily recognize him, then," I said. "Oh no!" he replied ; "I only had a short look at him." The German was a strange mixture, honest apparently, and intelligent also. He had heard of some murders, he said, but they didn't seem to concern him."[15]
Biography
Joseph Lawende was born on 9 February 1847 in Warsaw, the son of Hersch Lawende and Zirle, his wife. (At his marriage, Joseph anglicised his father's name to Henry, and described him as a merchant.) At the time of his naturalisation (April 1889) his father was dead, but his mother was still living at Warsaw.[16]
He came to England around 1871[16] and was married on 22 January 1873 in the Congregation of the New Synagogue, at 15 Commercial Street, to a London-born woman, Annie, the daughter of Julius Rosenthal and Julia (née Hirsch), his wife. The previous year, Joseph's brother, Leopold, had married Annie's sister, Fanny.[17][18]
At his marriage, Joseph used an anglicised version of his surname, Lavender. Presumably he was generally known as Lavender from that time on - as his descendants are - though he continued to use Lawende for some official purposes until at least 1889.
Joseph and his wife Annie had twelve children:[19]
Eva, b. c. 1873
Fanny, b. 1874
Henry (or Harry), b. c. 1877
Rose, b. c. 1879
Pauline (or Poppy), b. 1880
Julius (or Jack), b. 1882
Eleazer (or Ellis), b. 1884
Rachael (or Ray), b. c. 1886
Leah (or Lily), b. 1887
Mary Isobel (or May), b. c. 1890
Ruby Sarah, b. 1894
Leonard Lipman, b. 1897
At his marriage, Joseph was a cigarette maker of 3 Tenter Street South.[17]
On 11 December 1876, he gave evidence at the Old Bailey at the trial of Isaac Marks for the murder of Frederick Barnard. He is described in the proceedings as Joseph 'Levender', a cigarette maker, of 3 'Lenton' Street, Goodman's Fields. He had known the accused for some twelve months as a customer of the Camperdown Hotel in Great Alie Street, where Lawende dined on Sundays, and had played dominoes with him. He gave evidence about the strange way in which the accused used to behave.[20]
In 1881 he again described himself as a cigarette maker, and the family was at 2 Tenter Street South.[21] Around 1885 he moved to 45 Norfolk Road, Dalston,[16] where he was still living in the Autumn of 1888, when he gave his occupation as a commercial traveller. The same address and occupation were given when he applied for naturalisation the following April.[3][16] The C.I.D. report made then by Sergeant William Turrell described him "a very respectable man, ... spoken well of by his sureties". At the time of his naturalisation he had been employed for more than six years by Messrs Gustav Kuschke & Co, of 99 Fenchurch Street, tobacco merchants.[16][22] (Apparently this is the address intended in the description "Mr. Lewend of 79 Fenchurch Street" in a report by Inspector James McWilliam, dated 27 October 1888.[6]. Another press report said that his "business premises [were] in St. Mary Axe, corner of Bury street".[2])
Lawende's movements over the following decades can be traced from census returns and other sources. In 1891 he described himself as a tobacconist and commercial traveller, and was living at 23 Upper Street, Islington.[23] By September 1894, when the birth of his daughter [Ruby] was announced in the Jewish Chronicle, the family had moved to 116 Mildmay Road, Mildmay Park.[24] In 1901 Lawende described himself as a commercial traveller and was living at 140 Mildmay Road.[25] In 1911, he described himself as a "Traveller (Tobacco)" (employed) and was living at 17 Wallace Rd, Highbury North.[26]
Joseph Lawende died on 9 January 1925 at 16 Mildmay Park and was buried on 12 January at East Ham Cemetery.[27] His widow Annie died on 10 August 1936 at 3 Connaught Mansions, Albion Road, London N16 and was buried on 12 August at East Ham Cemetery.[28]
In January 2008, Melanie Dolman, a granddaughter of Joseph Lawende's youngest son Leonard, provided Ripperologist magazine with a photograph of Joseph, his wife Annie and their children, taken in 1923 to mark the couple's golden wedding anniversary. [29]
References