Church Passage
From Jack the Ripper Wiki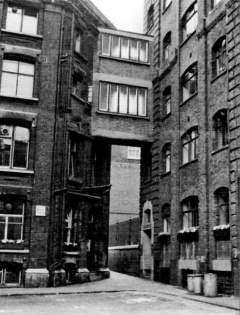 City of London, EC3.
Today known as St James's Passage.
Formerly a narrow passage leading from Duke Street (now Duke's Place) to Mitre Square. In the 18th century it went by the name of 'Dark Entry'[1].
The passage tapered from 18 feet wide at its entrance in Mitre Square, to 5 feet wide within only a distance of a couple of paces. Above its entrance to Mitre Square hung a wall mounted Gas lamp. It was at the Duke Street entrance that Joseph Lawende, Joseph Hyam Levy and Harry Harris saw a couple talking at 1.35am, 30th September 1888. It has been generally accepted that the woman was Catherine Eddowes and the man her killer.
At approximately 1.40am, 30th September 1888, City PC James Harvey walked from Duke Street down Church Passage as far as Mitre Square (estimated by the time on the Aldgate Post Office clock). He saw noone and heard no cry or noise[2].
Church Passage was renamed St James's Passage on 1st July 1939. A footbridge was added from the Kearley & Tonge warehouse on its north side to the warehouse opposite just after the Second World War[3]. It was significantly widened c.1974 following the demolition of the buildings.
References
↑ John Rocque, Plan of the cities of London and Westminster and Borough of Southwark, 1746
↑

Coroner's inquest (L), 1888, No.135, Catherine Eddowes Inquest, 1888 (Corporation of London Record Office)

↑ 'Newly Published Whitechapel Photographs', Val Hockley; Ripperologist #80 (June 2007)