James Harvey
From Jack the Ripper Wiki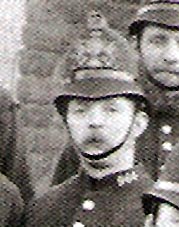 Police Constable James Harvey, 964 (City)
Witness at Catherine Eddowes' inquest.
Born 4th February 1855 in Ashburnham, Sussex. Married to Clara Paige with whom he had four children; James (b.1886), Alice (b.1889), William (b.1891) and Clara (b.1899).[1]
Joined City of London Police in 1876 (warrant no.5045). Dismissed 1st July 1889 for reasons unknown.[2]

Began his beat at 9.45pm, 29th September 1888. His route took him from Bevis Marks to Duke Street, into Little Duke Street, to Houndsditch; thence from Houndsditch back to Duke Street, along Duke Street to Church Passage as far as, but not entering Mitre Square. Then back again into Duke Street, to Aldgate, from there to Mitre Street, back again to Houndsditch, up Houndsditch, to Little Duke Street, again back to Houndsditch, to Goring Street, up Goring Street and returning to Bevis Marks.[3]
At approximately 1.40am, 30th September 1888, PC Harvey walked from Duke Street down Church Passage as far as Mitre Square (estimated by the time on the Post Office clock). He saw noone and heard no cry or noise. When he got to Aldgate he heard a whistle blown and saw George Morris with a lamp. On asking what was the matter, Morris told Harvey that "a woman has been ripped up in Mitre Square".
PC Harvey saw PC Holland across the street and told him to accompany him to Mitre Square. On arriving they found PC Edward Watkins with the body of Catherine Eddowes and PC Holland was immediately sent to get Dr George Sequeira. Private individuals were sent to fetch other police officers including Inspector Edward Collard, whilst Harvey waited with Watkins at the scene.[4]
If the sighting of Catherine Eddowes at the end of Church passage by Joseph Lawende et al (at 1.35am) is correct and the timing of PC Harvey's arrival at Church Passage (1.40am) is accurate, it may be that PC Harvey came the closest of any police officer to catching the murderer in the act.[5]
After his dismissal in 1889, Harvey took up employment as a warehouseman and was later recorded as living at 60 Tower Hamlets Road, West Ham. [6]. The family subsequently moved to Ashville Road, Leyton where James was recorded as being a 'Fireman Dustman'.[7]
He died in West Ham in 1903.[8]
References