Edward Watkins
From Jack the Ripper Wiki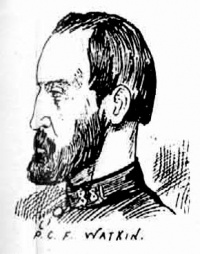 City Police Constable Edward Watkins (881).
Witness at Catherine Eddowes' inquest.
Born in St Pancras, London in 1844. By 1871 Watkins had married Hull native Augusta and was living at 2 Great Charlotte Street, Christchurch, Southwark. He also joined the City Police Force in the same year.[1]
By 1881 Watkins was living with his family at 6 Eldon Street, St Leonards, Shoreditch. Living with him and his wife were his 3 daughters and his Father, John, a former Butler from Windsor. [2]

On the evening of the 29th September 1888, at 9.45pm, PC Watkins departed from Bishopsgate Police Station and by 10.00pm had entered into his beat, starting from and including Duke Street, through Heneage Lane, through a portion of Bury Street, then through Cree Church Lane, into Leadenhall Street, along Leadenhall Street into Mitre Street, then into Mitre Square, around the square, back into Mitre Street, then into King Street, along King Street, into St James Place, around St James Place, and back to Duke Street[3].

The following is a written reconstruction of Harveys beat:-
Earlier in the night of the 29th, PC 881 Edward Watkins of the City Police had just been informed by his beat Sergeant to work left handed. With 17 years experience Watkins would fully understand this request. In order to throw criminals and prostitutes who may have been timing and watching a Policeman's beat, beat constables were sometimes ordered to work left handed. This meant that instead of his usual right turns, Watkins had to make left turns. The beat constable had no prior warning of this until he was just about to go on patrol. So, once instructed (and noted on the list by the beat Sergeant), Watkins stepped out into that chilly night of September 29th 1888 fully equipped with his Bulls-eye lantern on and fixed to his belt. This highly regarded officer started his beat at 9.45pm and was in full flow by 10pm. Starting near the St James Place entrance of Duke Street, he would have patrolled briefly north, towards Bevis Marks, before turning left into Heneage Lane. Strolling down the Lane at the regulation 2 and a half miles per hour, Watkins would have been on the look out of anything suspicious. Checking the many shops and dwellings were secure before turning left onto Bury Street. Barely had he joined this street before he took a right into Creechurch Lane. Just prior to coming to the Church of St Katherine Cree he would have paid particular attention to the recently constructed warehouses on his left. Upon passing the church Watkins took another turned left into the far wider and brightly lit Leadenhall Street. Again, as he walked, he would be checking the offices and shops in the street and eyeing any loiterers as he passed the Aldgate pump. After taking a quick glance up Aldgate, Watkins then turned sharp left into Mitre Street. Passing No 40 Mitre Street, the sailcloth making premises of Andrew Lowson as he went on his way, he would then pass by Copeland & Co, Oil and Provision Merchants of No 4 on his right. George Clapp, the care keeper at No 5 Mitre Street was on the premises along with his ill wife and her nurse as Watkins strolled slowly by, continuing past the empty cottage and coffee rooms at numbers 6-7 and reaching the picture frame shop at 8-9 Mitre Street. The PC was by now approaching Mitre Square upon his right.
Just before he edged around the aforementioned picture frame making shop belonging to Mr Charles Taylor, Watkins would look briefly up and down Mitre Street. Then he entered Mitre Square, checking that Mr Taylor's side door was still locked as he passed. Turning to the right and skirting his way around this dim place, he would have checked that the back of the shop was secure as well as perhaps checking that the shutters were fastened. He was now in the darkest corner of Mitre square and no doubt he would have had his Bulls eye lantern on and open as he checked the wooded gate of Heydemann and Co storage yard. Maybe Watkins cast a glance up at the back window of 5 Mitre Street Co, where George Clapp would soon be retiring to bed in almost an hours time. Next to the Heydemann & Co yard stood one of the four large warehouses that dominated the square, the warehouse of Horner & Co, Chemical Goods Sundriesmen. Watkins patrolled slowly along this building, again checking the entrance and then the loading bay doors before arriving at Church passage. This passage started wide in Mitre Square but narrowed dramatically from 18 feet to only 5 feet in no space at all. If Watkins were to walk along the passage he would have ended up in Duke Street. However Watkins would have been fully aware that the security of this passage belonged to fellow beat Officer City PC 964 James Harvey. A brief look up the passage, as he stood almost under the gas lamp, he then would turn left.
Watkins beat now brought him to the second warehouse in the square. Kearley & Tonge's warehouse and counting house was a mixture of storage and office space. Another large structure, it was in fact one of two buildings Kearley & Tonge, wholesale grocers had in the square. As Watkins came to the entrance of this warehouse he would on any other night, between the hours of 1 and 2am, have stopped to speak to the warehouse night watchman (and ex Metropolitan Police Constable) George James Morris. This was not an unusual occurrence. It would have been part of Watkins's duty to know the night watchmen on his beat just in case he was needed. In return the Night watchman became the Constables eyes and ears when the beat PC was not in the area. There would have been periods in the beat when the Policeman and Night watchman liaised and discussed if anything untoward had happened whilst the Constable completed his beat, maybe over a pipe or cuppa. Watkins had certainly on previous occasions spoken to Morris. However, tonight was the only night in the week this didn't happen; due to the fact Morris had other duties to perform deep within the bowels of the warehouse and in the counting house area. Noting Morris wasn't at his usual spot at the door, Watkins carried on checking the small doorway next to Kearley & Tonges that lead to the covered rear yard of Philips & Bisiker, Builders. Watkins was now at the Mitre Square end of St James Passage. At the other end of which was St James place (then known colloquially as 'Orange Market', due to the fruit stalls that retailers set up there). Two bollards at Mitre Square end of the passage stopped the stallholders using this passage as a shortcut as they pushed their carts into St James place. A lamp stood at St James Place end of the passage and lit the southern side of the Orange Market during the dark hours. Sometimes Watkins continued his beat via this passage, however this time he carried on. Passing some railings situated in front of the second and larger of the Kearley & Tonge warehouses. Outside this warehouse stood the only freestanding gas lamp in Mitre Square. This lamp was deficient. Either the gas supplied to the lamp was of poor quality or the lamp, its fittings or piping was damaged. Whatever the problem was, this lamp was not working to its full capacity, therefore making the Square darker than usual. It was Watkins duty to report such findings, one assumes upon return from his beat or to the beat Sergeant who regularly made spot checks during a beat, whichever came first. So, in all likelihood, once he got to this spot PC Watkins would have stopped here briefly and noted in his notebook that this lamp was not working fully.
Next the conscientious PC Watkins would have checked the gate of the Kearley & Tonge warehouse, maybe even noting that such action wasn't entirely necessary – for night watchman George Morris was known to guard his manor with zeal. Only a few weeks before Morris had had a man arrested for taking an empty champagne case that had been left outside the Kearley & Tonge premises. The sight of such packing cases and wooden pallets, gathered behind the railings of the adjoining building and conveniently close to the hoisting area of the Kearley & Tonge warehouse, may have made Watkins recall the incident but we will never know. The building itself, 4, Mitre Square, was one of four similar houses built in the early part of the century, when Mitre Square could still boast a Church. Now only two were left: the empty and dilapidated No 4 that adjoined Kearley & Tonge, and, in the far corner, No 3, tenanted by Police Constable Richard Pearce and family. It was, at that moment in 1888, the only inhabited building in Mitre Square. PC Pearce was off duty and no doubt was relaxing with some well-earned family time as Watkins made his last left turn in the square. This brought him to the final warehouse of Williams & Co. Another big building, but not as large as those belonging to Messers Horner, Kearley & Tonge, this formed the south western side of Mitre Square. Watkins would now leave the Square and head back into Mitre Street, returning some 12 to 14 minutes later.
Once back in Mitre Street, Watkins proceeded towards King Street. A right turn into the street and within no time he would have stood parallel with Sugar Bakers Yard. Continuing on he would have passed and listened carefully to the revellers at The Old Jewellery Mart Public House, just in case there was a commotion that may have required him to deal with. Watkins would then come to St James Place, described by Henry Mayhew as "a large square yard, with the iron gates of a synagogue in one corner… and a gas lamp on a circular pavement at the centre. The place … is quiet and dirty." Also, in the middle of the open place stood a public convenience and a manned Fire Station made of wood. However, at the time a new station was being erected. This may have some connection with the road works being conducted that night, road works that James Blenkingsopp was the night watchman for. After manoeuvring around the place PC Edward Watkins would have exited and returned to Duke Street. He would then go on to conduct another 13 patrols that night, all without any concern[4]
At around 1.44am, Watkins entered Mitre Square from Mitre Street. Turning right, he approached the darkest corner of the Square. He had his Bulls-eye lamp open (lit, with the beaming showing) and fixed to his belt. As he continued he saw in the corner created by Heydemann's Yard and the empty cottages the prone body of Catherine Eddowes. Knowing full well that the nightwatchman, George Morris of Kearley & Tonge Warehouse and Counting House was on duty, he immediately approached the Warehouse door.
The following is taken from the Catherine Eddowes inquest testimony [5] of PC Edward Watkins and Kearley & Tonge Nightwatchman George Morris: -
Watkins - I ran across the road to Messers Kearley & Tonge, the door was ajar, I pushed it open.
Morris - The door was knocked or pushed. I was about 2 yards from the door. I turned around and opened the door wide and saw Constable Watkins. He said "For Gods sake mate, come to my assistance". I said "Stop till I get my lamp".
Whilst Morris looked for his lamp, Watkins noted the time as 1.45am by his own watch. Inquest testimony continues: -
Morris - I immediately went outside. I said "What's the matter?". "Oh dear" he said "there's another woman cut to pieces". I said "Where is she?". He said "In the corner". I went over to the corner and shewed my light on the body.
Morris then blew upon his whistle and immediately left the Square to look for help via Mitre Street, heading towards Aldgate. Watkins stayed with the body, conducting a brief inspection best he could under the poor lighting conditions. He noted that her clothing was filthy and, upon her chemise, he also noted bloody fingermarks.
PC Edward Watkins remained with Eddowes until the arrival of City PCs James Harvey (964), Holland (814) and latterly Dr George Sequeira
By 1896 PC Watkins had retired. In 1901 he was living at Rush Green, Beacontree Heath Road, Romford, Essex with his wife and a servant, 54 year old Jessie Fowler of Hull. [6]
He died in Romford in 1913, aged 69[7]
References