Duke Street
From Jack the Ripper Wiki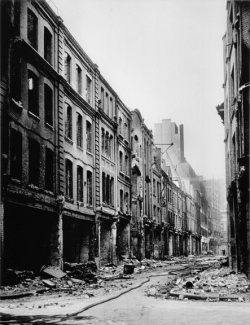 City of London EC3. Now known as Duke's Place.
Street running northwest-southeast as a continuation of Bevis Marks down to Aldgate. Originally known as Shoemaker Row[1], it had been renamed Duke Street by the end of the 18th century[2] after the house of the Duke of Norfolk, which had been built by Sir T. Audley after he pulled down the priory of Holy Trinity, and which, coming to the Duke by marriage, was called Duke's Place[3].
The area was an early settlement for Jews after they were permitted to enter Britain by Oliver Cromwell in 1657, resulting in the building of the Sephardic Bevis Marks Synagogue (1701) and the Ashkenazi Great Synagogue. The latter was established in 1620, subsequently rebuilt in 1766 and 1790 and was destroyed during an air-raid on 11th May 1942. The following year, a temporary structure was erected on the site and was used until 1958 when it moved to Adler Street, Whitechapel. The Adler Street synagogue closed in 1977[4].
Opposite the Great Synagogue was the Imperial Club at 16-17 Duke Street. At 1.30am, 30th September 1888, Joseph Lawende, Harry Harris and Joseph Hyam Levy made to leave the club and by 1.35am were passing the entrance to Church Passage which led from Duke Street into Mitre Square. Here they saw a woman later identified as Catherine Eddowes talking to a man. Ten minutes later, Eddowes was found dead in Mitre Square. Duke Street was also part of the regular beats of City PC's James Harvey and Edward Watkins. PC Harvey had entered Church passage from Duke Street at 1.40am that morning and had seen nor heard anything suspicious.[5]

Duke Street was renamed Duke's Place in 1939[6] and has since been heavily redeveloped, particularly at the southern end where it has become part of a one-way system created in the 1970s.
References