Two Brewers
From Jack the Ripper Wiki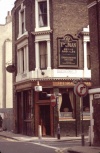 Former public house, 154 Brick Lane, Spitalfields, London E1.
(83 Brick Lane before 1883)
The landlord in 1888 was William Ryder and it was a Truman's house.[1]
Situated at the north-eastern corner of Brick Lane and Buxton Street, it is where Martha Tabram and Mary Ann Connelly were reputed to have met two soldiers at 10.00pm, 6th August 1888.[2]

It was later renamed the 'Old Two Brewers'. It is no longer a pub, having reopened in 1999 as 'coffee@brick lane', first of the organic 'coffee@' chain based in London[3]. This closed down in and moved to other premises on the street in 2009. The building is currently vacant (Sept 2009).
References
↑ The Jack the Ripper A-Z, Begg, Fido, Skinner (Headline 1991)