Black Lion Yard
From Jack the Ripper Wiki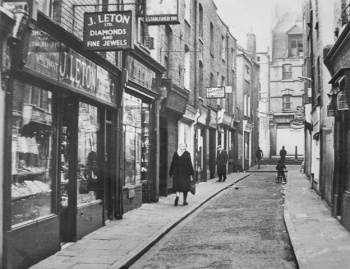 Whitechapel E1 - now demolished.
Narrow thoroughfare running north-south from Old Montague Street (where it was accessible via a set of steps) to Whitechapel Road. Named after the Black Lion Inn which is mentioned by Charles Dickens in Barnaby Rudge (1840), it was certainly in existence by 1746[1], probably earlier. In 1888 it was (like much of the surrounding area, predominantly Jewish. The Jewish Soup kitchen was based here before moving on to Brune Street in 1902 and it was known for its kosher dairy which had its own herd of cows[2].

In his research into Aaron Kozminski, Martin Fido discovered a Nathan Kaminsky at 15 Black Lion Yard, which has since thrown up the possibility of a misidentification of either Kozminski or David Cohen[3].

Black Lion Yard eventually became known for its jewellers, described as the 'Hatton Garden of the East End'. It was earmarked for clearance in 1966 and despite petitions and media coverage[4], it was demolished 1972-5. Black Lion House stands near the site today on Whitechapel Road.
References