Whitechapel Road
From Jack the Ripper Wiki
Whitechapel, Mile End, London E1. Designated part of the A11.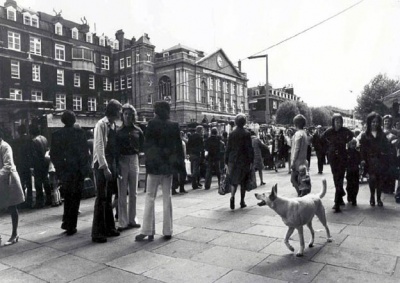 Major thoroughfare running west-east from Whitechapel High Street (at the junction with Osborn Street), continuing as Mile End Road after the crossroads with Cambridge Heath Road and Sidney Street. Like its continuations east and west, Whitechapel Road was part of the main route out of London from Aldgate to Essex and was deliberately wide to discourage criminal activity, ie. ambushes.
The church of St. Mary Matfelon was built in the 14th century as a chapel of ease. The last version of the church was built in 1878, but was demolished in 1952 after suffering extensive bomb damage during World War 2.
After its foundation in 1740, the London Infirmary (later Hospital) moved to its present site from Prescot Street, Whitechapel, in 1757. Its medical college was attended by Thomas Barnardo from 1866 and Joseph Carey Merrick, the 'Elephant Man' was given rooms there in 1884 after being discovered in a freak show at No.259 opposite. He died at the hospital in 1890.[1]
The Whitechapel Bell Foundry is Britain's oldest manufacturing company[2] and has been at its present location since 1670. It was responsible for the casting of 'Big Ben' (1858) and the Liberty Bell (1752) amongst others.
Whitechapel Road underwent drastic renumbering on 29th November 1898.

Notable streets and buildings on Whitechapel Road:
(North side)
Black Lion Yard (demolished)
Davenant Foundation Grammar School (closed)
Booth House (Salvation Army Hostel, No.153-175)
Pavilion Theatre (Demolished 1961, site now vacant)
Vallance Road (formerly Baker's Row)
Whitechapel Underground Station
Whitechapel Street Market
Blind Beggar public house (No.337)
(South side)
Church of St. Mary Matfelon, the 'White Chapel' (demolished 1952)
Altab Ali Park (formerly St. Mary's Gardens)
Whitechapel Bell Foundry (No.34)
East London Mosque and London Muslim Centre (No.46-92)
London Hospital (now Royal London Hospital)
Sidney Street

Emma Elizabeth Smith was walking along Whitechapel Road on the morning of 3rd April 1888 and crossed the road at Whitechapel Church to avoid a group of men who then followed her up Osborn Street and attacked her at the junction with Wentworth Street. She was later taken to the London Hospital where she died of her injuries[3].

Mary Ann Nichols was last seen alive at the junction with Osborn Street at approx. 2.30am by Emily Holland. Nichols refused to go to the lodging house with Holland and continued to walk drunkenly eastwards in the direction of Buck's Row[4]. Also, Rees Ralph Llewellyn, who was called to the murder scene in Buck's Row had a surgery at No.152 Whitechapel Road[5].
Thomas Coram found a bloodstained knife in a doorway opposite 253 Whitechapel Road at about 12.30am, 1st October 1888. He was seen by PC Joseph Drage who went to investigate[6].
Dr. Thomas Horrocks Openshaw was curator of the Pathological Museum at the London Hospital when he was asked to examine the Lusk Kidney on 18th October 1888. His involvement led to his receiving of the Lusk Letter on 29th October.
A beaten and bloodied James Sadler was taken to the London Hospital on the morning of 13th February 1891 by PC Arthur Sharp[7].

Whitechapel Road is still a major road and is home to a busy daily street market on its north side, stretching from Vallance Road to the Blind Beggar pub. The pub was to gain national notoriety when local gangster Ronald Kray shot George Cornell there in March 1966[8]. The road has also been a base for the Salvation Army for many years - the current hostel is Booth House, built in the 1950s.
One of the newest additions is the East London Mosque (1985) and the London muslim Centre (2004). Otherwise, Whitechapel Road is a varied mixture of 19th and 20th century buildings - public houses include the Nag's Head (No.17-19), Grave Maurice (No.269), Indo (formerly the Old Blue Anchor, No.133)) and the LHT Urban Bar (formerly London Hospital Tavern, No.176).
References