Whitechapel
From Jack the Ripper Wiki
London E1 - Area within the Borough of Tower Hamlets, bordered by the City of London (to the west), Spitalfields, Mile End New Town and Bethnal Green (north), Mile End Old Town (east) and St George-in-the-east (south).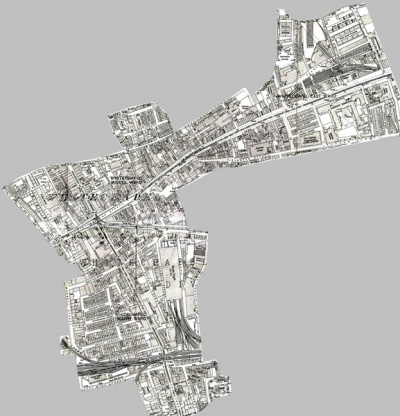 Owing to its proximity to Aldgate, Whitechapel was probably the earliest neighbourhood to be built up in this area. Its name is derived from the church of St. Mary Matfelon, first built in the 13th century - the first small chapel was painted white. It became the parish church of St. Mary Whitechapel in 1338. Originally, Wapping was part of the district until it was separated in 1694.

Much of the character of Whitechapel was dictated by the placing of nuisance trades and industries there, where prevailing winds would blow fumes and smells away from the City. With the coming of the docks, many residents were allied to river trades. It also meant that immigrants would settle here, the first notable arrivals being the Irish in the mid 1800s. By the late 1880s, Whitechapel (along with other East End districts) had become a home for eastern-European Jewish refugees, who dominated the local population well into the 20th century. Many took up tailoring and boot-making trades.

The murders of Martha Tabram and Mary Ann Nichols occurred in Whitechapel, as did the attack on Emma Elizabeth Smith, thus giving the name 'Whitechapel Murders' to the series, despite subsequent attacks happening elsewhere. Later victims Alice McKenzie and Frances Coles were also killed in Whitechapel.

The area was a centre for philanthropy in the 19th century and the Salvation Army was first set up here, as was Canon Samuel Barnett's Toynbee Hall - both are still operating. The London Hospital was also opened here in 1757.
Jewish communities began to leave after the Second World War. Several large swathes of the district were badly damaged by enemy action, most notably north of Whitechapel Road and the area around Adler Street and St. Mary's Church. The latter was so badly damaged that it had to be demolished in 1952. Ultimately, the Jews were replaced by new immigrants from Bangladesh as the 1960s began and the Asian settlers immediately settled into the clothing and textile trades left behind by their predecessors.
The East London Mosque (1985) and London Muslim Centre (2004) were built to cater for the religious requirements of the Muslim population in much the same way that the Jews before them set up numerous Synagogues. There are now hardly any of these left in the area[1].

Relevant streets and locations in Whitechapel:
References
↑ The London Encyclopedia; Weinreb, Hibbert & Keay, (3rd Edition - Macmillan 2008)