Swallow Gardens
From Jack the Ripper Wiki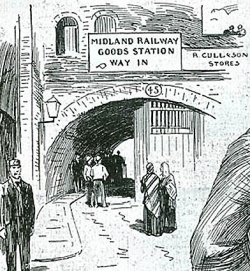 Murder site of Frances Coles, 13th February 1891 - Whitechapel E1.
As its name wistfully suggests, Swallow Gardens were originally gardens or orchards laid out to the north of Rosemary Lane (now Royal Mint Street) and to the south of Chamber Street, a thoroughfare which still runs east-west between Leman Street and Mansell Street. By the mid-18th century, small properties were beginning to encroach on the area[1], however major changes followed the creation of the London Blackwall Railway (originally the 'Commercial' Railway) which began construction in 1836 and was opened in 1840. The line ran from the Minories to Blackwall via Stepney. This same line also runs alongside Pinchin Street.
Swallow Gardens therefore changed drastically, hidden under railway arches and part of it became the site of a goods yard. From this time, it was merely an alleyway running through a railway arch from Royal Mint Street to Chamber Street.
Frances Coles' body was discovered at the Chamber Street end of the passageway, approximately twenty feet in, at 2.20am, 13th February 1891, by PC Ernest Thompson.
The arch has long been blocked off by gates or shutters and is now a private lock-up. The actual site of Swallow Gardens is often confused with another alleyway further east, the foreboding Abel's Buildings.
Since the true location of the arch was been ascertained (fairly recently), Swallow Gardens has been fairly well documented photographically, although John Gordon Whitby managed to photograph the correct arch back in 1961.[2]
References
↑ John Rocque, Plan of the cities of London and Westminster and Borough of Southwark, 1746
↑ The London of Jack the Ripper: Then and Now, Robert Clack and Philip Hutchinson (Breedon 2007)