Chamber Street
From Jack the Ripper Wiki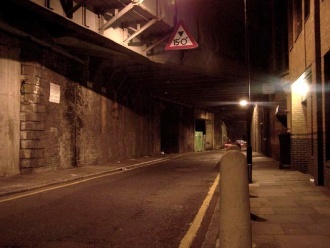 Whitechapel, London E1.
Thoroughfare running east-west from Leman Street to Mansell Street. Under the railway arches to the south ran Swallow Gardens, murder site of Frances Coles, 13th February 1891.
The north side of Chamber Street originally included buildings of the London Infirmary (then based in adjacent Prescot Street[1]) until 1757 when it moved to Whitechapel Road and became the London Hospital.
PC Ernest Thompson was on beat duty in Chamber Street at 2.15am when he heard footsteps, moments before discovering Coles' body in Swallow Gardens.[2]

Chamber Street has been extensively rebuilt and includes the Aldgate East Travelodge (which sits over Abel's Buildings) and the English Martyrs' Club. Most of the railway arches on the south side are garages and private lock-ups.
References
↑ John Rocque, Plan of the cities of London and Westminster and Borough of Southwark, 1746
↑ Inquest report, The Times, 16th February 1891