Wentworth Dwellings
From Jack the Ripper Wiki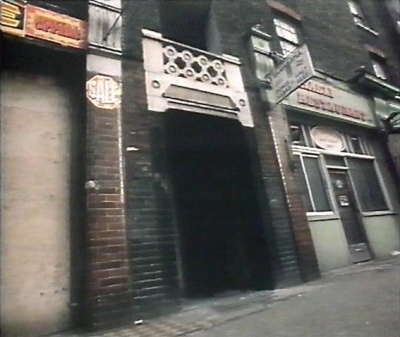 Site of the Goulston Street Graffito.
Two blocks of model dwellings situated on Goulston Street on both corners with Wentworth Street. Constructed in 1886/7 on land that had been cleared of slum properties following the Cross Act of 1875. They were five storeys high and contained 222 apartments in total. The block on the eastern side of Goulston Street had four street-level entrances, each giving access to communal stone staircases which led to Nos.90-107, 108-119, 120-131 and 132-143 respectively.[1]
PC Alfred Long found a bloodied portion of Catherine Eddowes' apron in the doorway of 108-119 Wentworth Dwellings at 2.55am on 30th September 1888 and noticed the graffito above it. He was sure that the apron had not been there when he had passed by at 2.20am, but could not say for sure whether the writing was.[2]

At the time of the discovery, Wentworth Dwellings was predominantly inhabited by Jews, leading to Sir Charles Warren's controversial decision to have the graffiti erased, despite the protestations of the City Police (who had no jurisdiction in that area in any case).[3] Certainly by 1900, the residents of Wentworth Dwellings were 95-100% Jewish[4].
Rapidly deteriorating conditions in the tenements moved John Orwell, Tower Hamlets Council leader, to promise swift demolition in September 1967, along with the Charlotte De Rothschild Dwellings in Thrawl Street. However, demolition did not come and soon, the buildings were becoming homes for the new Bengali immigrants. By the late 1970s, conditions were so bad that Wentworth Dwellings were bought under a compulsory purchase order and shocking reports on the insanitary and outdated facilites in the flats made the local press on a number of occasions. At one point, residents did not even know who their landlords were, whilst postmen refused to deliver there[5][6]. By 1979, there were nearly 200 Bangladeshi tenants, which was nearly the whole estate.[7]
Wentworth Dwellings were finally cleared of occupants in 1982 and as the entrances were bricked up, the threat of demolition loomed once more. However, in 1990, the buildings were refurbished and once again used as apartments, renamed Merchant House. Also at this time, the 'Happy Days' restaurant (next to the former stairway to Nos.108-119) expanded and the doorway now forms part of the entrance to the restaurant.[8]

Wentworth Dwellings have been photographically well-documented over the years, notably in a number of phtographs from the mid 1970s and even on film in the 1980 documentary Jack the Ripper: The Final Solution.
References