Goulston Street
From Jack the Ripper Wiki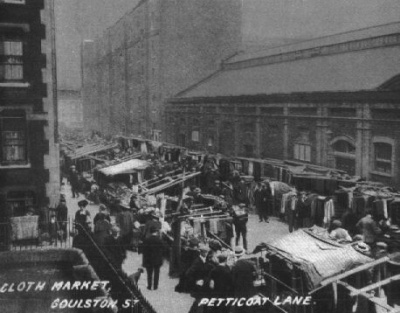 Site of the Goulston Street Graffito, London E1 (Whitechapel)

Thoroughfare running north-south from Wentworth Street to Whitechapel High Street. Goulston Street first appeared as a small passage in the 1730s[1], but within ten years had been widened and extended as far as Goulston Square, a former garden which sat half way between Wentworth and Whitechapel High Streets[2]. The street was extended further north between 1800 and 1830, this part initially being called New Goulston Street[3]. The 'New' prefix was soon dropped.
Matthew Packer, witness in the murder case of Elizabeth Stride, was born in Goulston Street in 1831.[4]

It was the northern half of the street which came under the scrutiny of the Metropolitan Board of Works when the Cross Act of 1875 earmarked it for demolition on account of its dangerous slum tenements. At the same time, properties in George Yard and the Flower and Dean Street area were also suggested for redevelopment. The resulting changes in Goulston Street meant that unsanitary dwellings in Three Tun Alley (on the west side) and Goulston Court (on the east) were wiped out, along with much of the west side of Goulston Street itself.[5]
In 1886/7, Brunswick Buildings were built on the west side of Goulston Street (as far as New Goulston Street) and Wentworth Dwellings were constructed on both Wentworth Street corners.
PC Alfred Long was on beat duty on the morning of 30th September 1888 when, at 2.55am, he noticed the piece of Catherine Eddowes' blood-stained apron in the doorway of 108-119 Wentworth Dwellings and the Goulston Street Graffito chalked above it on the jamb of the entrance. He did not notice either when he passed along Goulston Street at 2.20am. Detective Constable Daniel Halse had also been searching the area at about 2.20am and failed to see anything of note.[6]
Most of Brunswick Buildings were destroyed during the Second World War (by a V2 Rocket) but those abutting on New Goulston Street survived[7]. Conditions in Wentworth Dwellings and the remaining tenements of Brunswick Buildings deteriorated over the course of the 20th century and both were earmarked for demolition in 1967. Conditions at Brunswick were particularly poor - walls were collapsing and postmen refused to deliver because they had to negotiate piles of rubbish from overflowing bins[8]. Brunswick Buildings were eventually demolished in 1976, although their name is commemorated in Brunswick House which now partly covers the site.
Goulston Street is now one of many streets which take on the overflow from Petticoat Lane and Wentworth Street markets. It is also the site of a number of buildings belonging to London Metropolitan University (59-63 Whitechapel High Street) as well as the location of the famous 'Tubby Isaacs' seafood stall. The Aldgate Exchange pub on the eastern corner with Whitechapel High Street is the venue for meetings of the Whitechapel Society 1888, held in the downstairs 'Goulston Dive Bar'.
References