Flower and Dean Street
From Jack the Ripper Wiki
Mostly demolished, now Lolesworth Close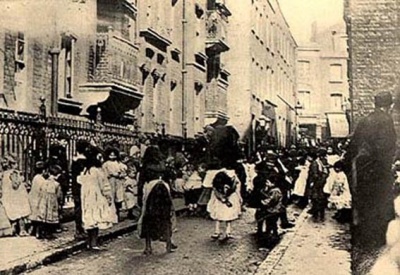 A narrow street running east-west from Commercial Street to Brick Lane. Originally laid out in 1655 on land belonging to Thomas and Lewis Fossan by John Flower and Gowen Dean, Whitechapel bricklayers. The street was originally 16 feet wide and a mere 10 feet wide at its western end, a feature it maintained throughout its existence.
The street also appears under the name 'Dean and Flower Street' in maps of 1676 and 1682.[1]

In 1657, a search conducted by the 'Tylers and Bricklayer's Company' showed that houses in Flower and Dean Street had been constructed using 'badd mortar using garden mould' and such was the poor state of the properties that extensive rebuilding had to be undertaken by the mid-18th century. In Roque's map of 1746, Flower and Dean Street was split by a large open square known as Broad Place, though it would seem this was a temporary feature brought about by demolition.[2]

The construction of Commercial Street from 1844 caused a considerable shift in the local population which no doubt exacerbated overcrowded conditions in the general area and Flower and Dean Street soon became known for its common lodging houses, courts, alleys and interconnecting properties. By 1880, it had sunk to such disreputable levels that one commentator was moved to write:
"Those who know the locality well said that if I examined the courts which ran out of Flower and Dean Street and the houses in its alleys and lanes, I should then be able to assure myself that I had seen the very worst that London is capable of producing"[3].
Indeed, by way of illustration, the census of 1881 lists no fewer than twenty common lodging houses on Flower and Dean Street. This gave a total of nearly 1000 residents of lodging houses alone - No.5 was also part of a property in Brick Lane that was home to 222 individuals.[4]

The Metropolitan Board of Works prepared a clearance scheme in 1877, though little was done at first, giving a period of reprieve for the slums and lodging houses and by 1883 it was considered "perhaps the foulest and most dangerous street in the whole metropolis". Eventually, a plot of land on the south side was bought by the Four per-cent Industrial Dwellings Company who built the barrack-like Charlotte De Rothschild Dwellings in 1886-7.
The slums of Spitalfields came to national (and international) attention during the period of the Whitechapel Murders as the victims were regular users of the common lodging houses, most commonly in Dorset Street and Flower and Dean Street.
From 24th-30th August 1888, Mary Ann Nichols stayed at the 'White House' at No.56. Nichols, drunk, had met Emily Holland on the morning of her murder, claiming to want to go there instead of her usual lodgings at Wilmott's Lodging House, Thrawl Street.
Elizabeth Stride had stayed at No.32 Flower and Dean Street on and off since 1882 and on the day before her murder had earnt 6d from the deputy, Elizabeth Tanner, by cleaning the kitchen. During the Ripper scare, Dr Thomas Barnardo visited No.32 to see conditions for himself and listened to the concerns of the women there regarding the murders. Barnardo was later to identify Stride in the mortuary as one of the women he had spoken to during that visit.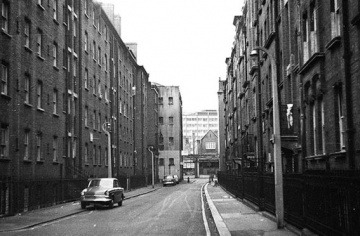 Catherine Eddowes had gone to stay with an Irish porter named John Kelly at Cooney's Lodging House, 55 Flower and Dean Street in 1881. The day before Eddowes' murder, the couple were seen eating breakfast in the kitchen of Cooney's, though they later went their separate ways and Kelly remained at the lodging house.
Margaret Franklin was sitting on a doorstep at the Brick Lane end with Catherine Hughes and Sarah Mahoney at 11.40pm, 16th July 1889, when Alice McKenzie passed them. Franklin had known McKenzie for many years and asked her how she was, but McKenzie had no time to stop.
Further redevelopment began after the murders ceased. In 1891, the Four per-cent Industrial Dwellings Company acquired most of the north side of the street and had begun demolishing Nos.33-44 by April of that year[5]. Nos.45-55 followed suit and Nathaniel Dwellings were built, being opened in 1892. The remaining parts of the south side were developed in 1895-7 with individual blocks known as Ruth and Irene Houses. However, the extreme eastern end (including the White House) remained undeveloped, maintaining the insalubrious reputation of old, despite the now improved conditions and reputation of the rest of the street.
By the late 1960s, many of these dwellings had fallen into disrepair and plans were afoot to clear the area, pending some new housing scheme[6]. Demolition began in 1973 and was complete by 1977, although it would be several years until new buildings would be constructed. The eastern end of Flower and Dean Street was blocked off by new shops and flats which were erected on Brick Lane c.1981 and eventually the whole site was redeveloped as the Flower and Dean estate 1982-4.
A small stretch of Flower and Dean Street remains at the Commercial Street end but was renamed Lolesworth Close c.1983[7]. The street is commemorated by Flower and Dean Walk, a pedestrianised area that runs through the estate approximately in line with the former George Street.
References