White House
From Jack the Ripper Wiki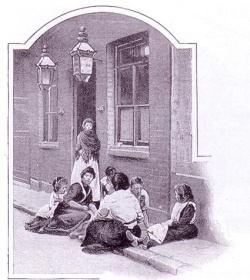 Demolished.
Common lodging house situated at 56 Flower and Dean Street (next door to Cooney's Lodging House at No.55) on the north side along the narrowest part of the street near the junction with Brick Lane. The White House, immortalised in a photograph that appeared in Living London in 1901, allowed men and women to sleep together[1], raising suspicion that it was little more than a brothel.
First registered on 25th September 1861, it was owned by James Smith of 48 Flower and Dean Street. It was taken over in January 1883 by his son John, ownership later reverting back to James in July 1884.[2]

Mary Ann Nichols stayed at the White House from 24th to 30th August 1888. At 2.30am on the morning of her murder, she met Emily Holland at the junction of Osborn Street and Whitechapel Road and being drunk, rebuffed Holland's plea to return to Wilmott's Lodging House on Thrawl Street with her. Nichols apparently wanted to go where men and women were able to sleep together (in all probability, the White House).[3]

The lodging house survived when the north side of Flower and Dean Street was demolished in 1891 to make way for Nathaniel Dwellings, opened the following year[4]. Along with a large lodging house at No.5 (on the opposite side of the street) which was part of 19 Brick Lane, No.56 later became known as Smith's Chambers.
The property was demolished in 1975, the moment being captured in a photograph taken by Paul Trevor.
References