Cooney's Lodging House
From Jack the Ripper Wiki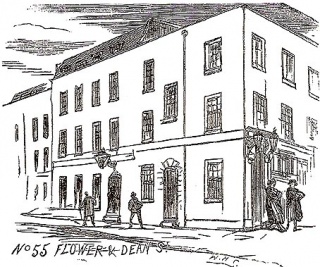 Demolished.
Common lodging house situated at 55 Flower and Dean Street (on the north side, close to the junction with Brick Lane). First registered in the name of James Smith on 31st October 1871. It was later passed on to his son John in January 1883.[1]

Originally known as Smith's Lodging House[2] after its owners. John Smith was a local character and 'businessman' who had followed his father's lead to become a successful property owner, particularly in the Brick Lane area, where he resided for most of his life[3]. In 1884, the owners of the lodging house became John Cooney (b.1854) and his wife Elizabeth (b.1856), sister of Jimmy Smith and the couple resided next door at 54 Flower and Dean Street[4]. Cooney was another local character (described as a 'salesman' in 1881) who also owned the Sugar Loaf pub in Hanbury Street, an establishment that was frequented by his cousin, the renowned music-hall star Marie Lloyd.
The deputy of the lodging house in 1888 was Frederick Wilkinson.
Catherine Eddowes and John Kelly had been living at Smith's/Cooney's since 1881; Kelly later gave a press interview about their arrangement:
"It is nigh on to seven years since I met Kate, and it was in this very lodging house I first set eyes on her. We got throwed together a good bit and the result was that we made a regular bargain. We have lived here ever since, as the people here will tell you, and have never left here except when we've gone to the country together hopping... Well, Kate and me lived on here as best we could. She got a job of charring now and then and I picked up all the odd jobs I could in the Spitalfields Market. The people here were very kind to us".[5]
In her witness statement, Eddowes' sister Eliza Gold referred to No.55 as belonging to 'a person's of the name of Smith'[6].
Much of the north side of Flower and Dean Street was redeveloped in 1891, the old buildings being pulled down to make way for Nathaniel Dwellings (opened 1892). No.55 was one of many properties demolished during this redevelopment, having been closed down on 25th May 1891. Many of Cooney's other premises suffered a similar fate as the Flower and Dean Street area was redeveloped.
Ten years later, the Cooney's were living at 61 Brick Lane with children John (b.1877) and Sarah (b.1892) and servants Eliza Cook and Richard Evans. By this time, John Cooney was proprietor of a lodging house at 63a Brick Lane, also known as 'The Beehive'.[7]
References