Hanbury Street
From Jack the Ripper Wiki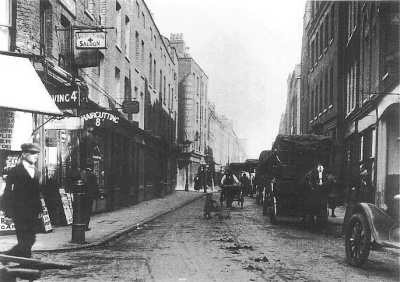 Murder site of Annie Chapman (see 29 Hanbury Street for further detail) - London E1, Spitalfields and Mile End New Town.
A long road running west-east from Commercial Street to Vallance Road. The street-line of the western section dates from c.1649 when it was known as Lolesworth Lane or Street as it crossed Lolesworth Field.
Appears as Browne's Lane on maps of 1677, named after Jeffrey Browne, a local landowner who also owned part of the Spital Field which later became the market.The north side had become built up by 1681. The street was later extended east of Brick Lane, though called Montague Street, Church Street and Wells Street.
Considerable rebuilding took place during the early 1700s, resulting in the typical georgian houses that dominated much of the area (and still do in nearby streets). Following the progressive expansion of Truman's Black Eagle Brewery, Browne's Lane and its continuations eastward were renamed and renumbered as Hanbury Street in 1876, in honour of Samson Hanbury and possibly his brother Osgood, who became partners in the brewery business from 1780[1]. A widely reproduced broadsheet from September 1888 which reports the capture of 'Leather Apron' refers to the street as 'Old Browne's Lane'.
The growth of the brewery complex in the first half of the 20th century changed the appearance of the street only marginally, although a significant alteration did come with the demolition of the north side (including No.29) in March 1970[2]. The south side retains many of the 18th century houses which have been restored, giving the modern visitor a flavour of how Hanbury Street would have appeared in more prosperous times.
References
↑ Survey of London, vol.27. (Ed. FHW Sheppard, 1957)
↑ East London Advertiser, 6th March 1970