Osborn Street
From Jack the Ripper Wiki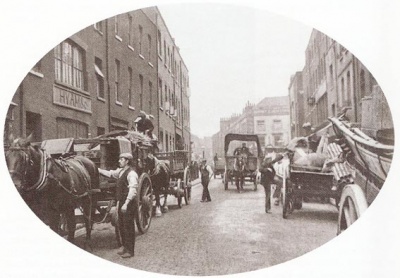 Whitechapel E1. Designated part of the B134.
Short road leading from Whitechapel Road to the crossroads with Brick Lane, Wentworth Street and Old Montague Street. Originally a narrow continuation of Brick Lane, it once went under the name of 'Dirty Lane', being paved and widened c.1778. Named after the Osborn family of Chicksand Priory, Bedfordshire who were prominent landowners here[1].

Emma Elizabeth Smith was allegedly attacked at the junction with Brick Lane/Osborn Street. The actual site where the incident took place is variously given as being: in Osborn Street, near Taylor's Cocoa factory[2][3]; the corner of Brick Lane and Wentworth Street[4]; opposite 10 Brick Lane[5].

Emily Holland met Mary Ann Nichols at the junction with Whitechapel Road at approx. 2.30am, 31st August 1888. About an hour after they parted company, Nichols' body was found in Buck's Row.
Most of the street was destroyed during the Second World War[6] and thus most surviving buildings are post-1945. Osborn Street is home to the City Hotel (No.12) and the Brick Lane Recording Studios, formerly known as the London Recording Studios and Sarm East (No.9-13).
References
External Links