George Street
From Jack the Ripper Wiki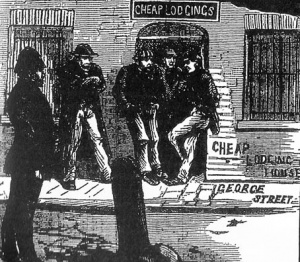 Demolished
Street running north-south from Flower and Dean Street to Wentworth Street, crossing Thrawl Street approx. half way along its length. It was laid out by Thomas and Lewis Fossan c.1657.[1]

As with the other streets in the neighbourhood, it had become known for its common lodging houses by the 1880s.
Emma Elizabeth Smith and Martha Tabram had been residing in common lodging houses at 18 George Street and Satchell's Lodging House (19 George Street) respectively at the time of their murders[2][3]. Rose Mylett was also known to have used the lodging house at No.18.[4]

George Street was where Mary Jane Kelly first lived with Joseph Barnett, soon after they met in April 1887.[5]
George Street was at the centre of the Flower and Dean Street rookery and consequently its slum buildings were completely demolished to make way for the Charlotte De Rothschild Dwellings and Lolesworth Buildings on its west side (1886), Ruth and Helena Houses (1895-7) on the east side and finally Keate and Spencer Houses (1908) also on the east side.[6]

It was renamed Lolesworth Street on 11th July 1893[7].
After the demolition of the model dwellings (1973-80) and the building of the Flower and Dean Estate (1982-4) Lolesworth Street ceased to exist, though the present Flower and Dean Walk marks the approximate route. The Rothschild Buildings arch to the south of the estate stands at the former junction of George and Wentworth Streets.
References