Joseph Barnett
From Jack the Ripper Wiki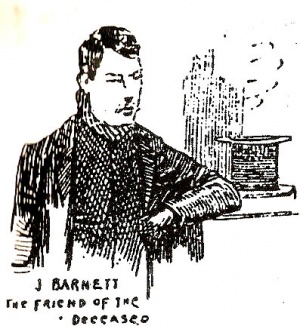 Former lover of Mary Jane Kelly, witness at her inquest and recently alleged suspect.
Joseph Barnett was born on 25th May 1858 at 4 Hairbrain Court, Whitechapel[1], the fourth child (and third son) of John and Catherine Barnett. Joseph's parents had fled their native Ireland to settle in Britain and John was a dock labourer - their first child Denis was born in Chalk, Kent, in 1849. Once the Barnetts had moved to Whitechapel, they had Daniel (b.1851), Catherine (b.1853), Joseph and finally John (b.1860).
By 1861 the family had moved to nearby Cartwright Street[2] and were still living there in 1864 when John Barnett (senior), by now a Billingsgate Fish porter, died of pleurisy in July. His widow was the informant on his death certificate, however this is the last time that Mrs. Barnett appears on any official records and what became of her is unclear. Eldest son Denis would therefore have taken the responsibility as head of the family, although he married Mary Ann Garrett in 1869 and settled in Bermondsey.
By the time of the 1871 census, with no parents and with Denis starting his own family elsewhere, the four remaining Barnett children were living at 24 1/2 Great Pearl Street, Spitalfields (a notorious slum district), with Daniel listed as head[3]. Later that year, Catherine married Joseph Beer, eventually relocating to Poplar. Denis, Daniel, Joseph and John all received their Billingsgate Fish Porter's licences on 1st July 1878 and from this time (though dates are uncertain) Joseph is listed on his licence as living at 4 Osborn Street, St.Thomas Chambers (a lodging house in Heneage Street) and North East Passage, Wellclose Square. He is also described as 5ft 7in in height with a fair complexion[4].
Barnett as Witness
Joseph Barnett met Mary Jane Kelly in Commercial Street on Good Friday, 8th April 1887. That first night they had a drink together and agreed to meet again the following day. This was when they decided to remain together and Barnett took lodgings in George Street for them (where he was apparently 'known')[5]. From there they moved to lodgings in Little Paternoster Row, Dorset Street, but were evicted for non-payment of rent and drunkenness. After living in Brick Lane for a while, the couple settled on 13 Miller's Court, Dorset Street c. March 1888[6]. During this time, Mary Kelly told Barnett of her background, his knowledge of which helped furnish the authorities with some biographical details of her life. However, little of what she told him (and others) has been corroborated by official documentation or otherwise (see article on Mary Jane Kelly for these alleged biographical details).

In his initial police statement, taken on 9th November 1888, Barnett (who was by now living at Buller's Lodging House at 24 & 25 New Street, Bishopsgate) stated:
"I am a porter on Billingsgate Market, but have been out of employment for the past 3 or 4 months. I have been living with Marie Jeanette Kelly who occupied No.13 Room Millers Court. I have lived with her altogether about 18 months, for the last eight months in Millers Court, until last Tuesday week (30 ulto) when in consequence of not earning sufficient money to give her and her resorting to prostitution, I resolved on leaving her, but I was friendly with her and called to see her between seven and eight pm Thursday (8th) and told her I was very sorry I had no work and that I could not give her any money. I left her about 8 oclock same evening and that was the last time I saw her alive. There was a woman in the room when I called."[7]

Although Maria Harvey claimed to be the woman with Kelly when Barnett visited, it is believed it was actually Lizzie Albrook, whose account reproduced in press interviews confirm Barnett's inquest statements[8]. Also, it is not altogether clear why he lost his job at Billingsgate.

Joseph Barnett was naturally called to the Kelly inquest on 12th November. From the 10th November, he had been living with his sister at 21 Portpool Lane, Grays Inn Road. Barnett gave an account of his relationship with Kelly:
"I have lived with the deceased one year and eight months, her name was Marie Jeanette Kelly. Kelly was her maiden name and the name she always went by. I have seen the body. I identify her by the ear and eyes. I am positive it is the same woman. I have lived with her at 13 room Miller's Court eight months or longer. I separated from her on the 30th October. I left her because she had a person who was a prostitute whom she took in and I objected to her doing so, that was the only reason, not because I was out of work. I left her on the 30th October between 5 & 6 pm. I last saw her alive between 7.30 & 7.45 the night of Thursday before she was found. I was with her about one hour, we were on friendly terms. I told her when I left her I had no work and had nothing to give her of which I was very sorry, we did not drink together, she was quite sober, she was as long as she was with me of sober habits. She has got drunk several times in my presence. There was a female with us on Thursday evening when we were together, she left first and I left shortly afterwards."
After repeating the story of Kelly's background and the circumstances of his own meeting with her, Barnett continued:
"She had on several occasions asked me to read about the murders she seemed afraid of someone, she did not express fear of any particular individual except when she rowed with me but we always came to terms quickly."[9]

It was noted at the inquest that Barnett stammered as he spoke, according to some reports compulsively repeating the last few words of anything said to him; "Witness spoke with a stutter, and evidently laboured under great emotion"[10]. This has led to speculation that he may have suffered from what is known today as 'echolalia', although there may have been other reasons, such as stress or nerves.
Barnett's life after the Kelly murder remains a mystery until 1906 when he was given a new porter's licence at Billingsgate and he was living at 18 New Gravel Lane, Shadwell, with his brother Daniel[11]. The following year, his licence recorded him as living at 60 Red Lion Street, Shadwell and in 1908, Tench Street, Wapping. In 1919 he is recorded on the electoral register as living at 106 Red Lion Street, Shadwell, with a Louisa Barnett who is listed as his wife, although no documentary evidence has surfaced to confirm they were married or had any children. The couple remained at this address until their deaths. Louisa died on 3rd November 1926.
Joseph Barnett died aged 68 on 29th November 1926, cause of death being edema of the lungs and bronchitis[12]
Barnett as Suspect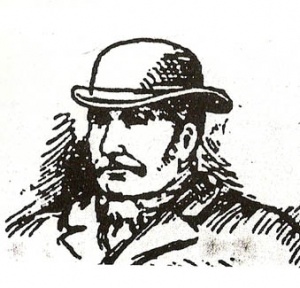 Joseph Barnett was suggested as a suspect by former private detective Bruce Paley in 1976. Incidentally, at that time, Mark Andrews was writing a fiction title, The Return of Jack the Ripper (1977), which also put forward the same idea[13]. Paley produced an article on his research in True Crime magazine in 1982[14].
Paul Harrison, a former Northampton police officer, took up the idea for his 1991 book, Jack the Ripper: The Mystery Solved. Regrettably, not only did Harrison fail to acknowledge previous work by Paley, but the Joseph Barnett in his study was not the right one.[15]
Bruce Paley's own full-length (and generally well-received) treatment of the theory, with a foreword by Colin Wilson, was published in 1995.
The theory is that Joseph Barnett was growing tired of Mary Kelly prostituting herself to other men. He was very much in love with Kelly, and believed that if he could support her through his own work, she would not have to resort to a life on the streets. The loss of his job as a fish porter in June of 1888 brought this dream to an end. Kelly returned to the streets in order to provide for herself, and Barnett became infuriated. In an attempt to "scare" Kelly off the streets, Barnett raged through Whitechapel and murdered a handful of prostitutes in the autumn of 1888. His plot didn't succeed, however, and tempers boiled in late October, culminating in their final quarrel on the 30th. Perhaps realizing that his love for Kelly was not completely requited, Barnett murdered her on November 9th with a frenzy only a scorned lover could possess.

There are several suggested links between Barnett and the Ripper:
Joseph Barnett's physical description tallies very well with a number of witness descriptions, particularly in height (5' 7"), age (30), build (medium), complexion (fair) and the presence of a moustache.
His link with Mary Kelly could explain why the killings ceased after her murder.
Ginger beer bottles were found in 13 Miller's Court by police on November 9th. In the "Dear Boss" letter, the author says that he "saved some of the proper red stuff in a ginger beer bottle over the last job to write with..."
The mystery of Kelly's locked door (it was locked when police arrived, indicating the killer either had a key or reached through the window to lock it after he left the scene) could be explained either by Barnett's possessing a key or his knowledge of the geography of the room.
Barnett also fits well with the F.B.I. Psychological Profile of the Ripper.

The FBI profile was compiled by SSA John E Douglas of the National Centre for the Analysis of Violent Crime in 1988 for the Cosgrove-Muerer production The Secret Identity of Jack the Ripper. The findings are here given with the suggested relevance to Joseph Barnett:
White male, aged 28 to 36, living or working in the Whitechapel area.
Barnett was 30 years old, white, and lived within a mile of Whitechapel for his entire life.
In childhood, there was an absent or passive father figure.
Joseph's father died when he was six.
The killer probably had a profession in which he could legally experience his destructive tendencies.
Barnett was a fish porter, undoubtedly experienced in boning and gutting fish.
Jack the Ripper probably ceased his killing because he was either arrested for some other crime, or felt himself close to being discovered as the killer.
Barnett was interviewed for four hours after the Kelly murder. The police seemed satisfied with his testimony and they don't appear to have suspected him further.
The killer probably had some sort of physical defect which was the source of a great deal of frustration or anger.

A variation on the theory of Barnett as a suspect exists in that Mary Kelly was not a victim of Jack the Ripper, but that Barnett murdered Kelly during a possible psychotic episode and that he tried to make it seem like a Ripper crime.[18]
References
Biographical details are taken from Jack the Ripper: The Simple Truth, Bruce Paley (Headline 1995), individual references being variously given below.
External Links
Archived Casebook Forums relating to Joseph Barnett
Joseph Barnett, Dr. Frederick Walker - Dissertation on Casebook