Satchell's Lodging House
From Jack the Ripper Wiki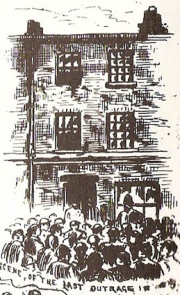 Demolished.
Common lodging house situated at 19 George Street, Spitalfields. It was on the east side of the street, half way between Flower and Dean Street and Thrawl Street.
It was first registered in December 1868 when the proprietor was Patrick Sullivan. John Satchell took over in June 1869 and remained the owner until the premises were closed down. Satchell also owned 20 George Street, as well as premises at 6, 7, 8, 31, 32 and 33 Flower and Dean Street[1]. 32 Flower and Dean Street was the lodging house frequented by Elizabeth Stride up until her death.
Martha Tabram was residing at Satchell's Lodging House at the time of her murder, 7th August 1888[2]. Annie Farmer was also staying there when she was attacked by an unknown man with a knife on the morning of 21st November 1888[3]. Coal heaver John Arundell was present when Farmer was having her wounds dressed by Dr. George Bagster Phillips - he had also previously been a resident at 32 Flower and Dean Street and identified the body of Elizabeth Stride.
The lodging house and those adjacent were closed down in May 1891 prior to the redevelopment of the east side of George Street, making way for Helena House (built 1895-7)[4].
References