Matthew Packer
From Jack the Ripper Wiki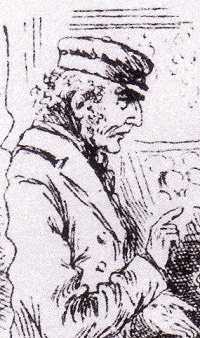 Witness (though not called to Elizabeth Stride's inquest).
Matthew Packer was born in Goulston Street, Whitechapel[1] in 1831. He married Rose Ann Wallis (b.1832, Maidstone, Kent) in Bethnal Green in 1867. There is no record of any children.[2]
In 1871, the couple were living at 1 Princes Street, Whitechapel (now part of Old Montague Street)[3] where Matthew is listed as a fishmonger. They later moved to 25 Fairclough Street and were joined by Matthew's stepmother Sarah[4]. By 1888, the Packers were living at 44 Berner Street, with lodgers Sarah Harrison and Harry Douglas. Matthew ran a fruit and sweet shop from the premises.
At 9am, 30th September 1888, Sergeant Stephen White called at No.44 to take statements from all the tenants. Packer claimed that he closed his shop at 12.30am that morning as he felt it was not worth staying open on account of the wet weather. When asked if he had seen anybody at the time he replied, "No. I saw noone standing about neither did I see anyone go up the yard. I never saw anything suspicious or heard the slightest noise and know nothing about the murder until I heard of it in the morning".
On 2nd October, two private detectives (Messrs. Grand and J.H.Batchelor of 283 Strand) had found a grape stalk in the drain of Dutfield's Yard. They subsequently took Packer to Golden Lane mortuary to view the body of Catherine Eddowes (without telling him she was the Mitre Square victim in order to test his veracity) - Packer did not recognise her. The Evening News of 4th October criticised the Police in the wake of this discovery of a new witness by two independent detectives.
Thus, on 4th October 1888, White was instructed to make further enquiries and called once again at 44 Berner Street, where Rose Packer told him that the two private detectives had called and that Matthew had gone with them to the mortuary to view Stride's body. On his way there, White met Packer who was in the company of the two detectives. Packer had seen the deceased in the mortuary and recognised her as a woman who had bought grapes from him at 11.00pm, 29th September.[5]
At 4.00pm the same day, Grand and Batchelor returned to Berner Street stating that they were to take Packer in a cab to Scotland Yard to see Sir Charles Warren. It is unlikely that Warren actually did meet Packer and a report written by (Senior) Assistant Commissioner Alexander Carmichael Bruce revealed what Packer had to say[6]:

"Matthew Packer keeps a shop in Berner St. has a few grapes in window, black & white.
On Sat night about 11pm a young man from 25-30 - about 5.7 with long black coat buttoned up - soft felt hat, kind of yankee hat rather broad shoulders - rather quick in speaking, rough voice. I sold him 1/2 pound black grapes 3d. A woman came up with him from Back Church end (the lower end of street) She was dressed in black frock & jacket, fur round bottom of jacket with black crape bonnet, she was playing with a flower like a geranium white outside and red inside. I identify the woman at the St.George's mortuary as the one I saw that night-
They passed by as though they were going up Com- Road, but- instead of going up they crossed to the other side of the road to the Board School, & were there for about 1/2 an hour till I shd. say 11.30. talking to one another. I then shut up my shutters.

Before they passed over opposite to my shop, they wait[ed] near to the club for a few minutes apparently listening to the music.
I saw no more of them after I shut up my shutters.I put the man down as a young clerk.
He had a frock coat on - no gloves
He was about 1 1/2 inch or 2 or 3 inches - a little higher than she was"[7]

Due to the drastic changes in his statements, Packer was considered unreliable and was not called to the inquest, despite the possible importance of his testimony. The Illustrated Police News felt he was important enough to have Inspector Abberline depicted as taking down Packer's details.[8]

As for the private detectives, 'Grand' was in fact a gentleman with a long criminal record who operated under numerous aliases, often known as 'Le Grand of the Strand', aka Charles Grant, Christian Nielson and 'Briscony' to name a few. In consequence of this reputation and allied with Packer's changing story, Chief Inspector Donald Swanson was moved to report that "any statement he (Packer) made would be rendered almost valueless as evidence".[9]

Packer returned to the news again when on 27th October he claimed to have seen the man who bought grapes on the night of Stride's murder again:
Mr Matthew Packer, who keeps a fruit shop near the gateway where the Berner Street murder was committed, stated on Wednesday that he felt just then greatly alarmed owing to his having seen a man exactly like the one who bought some grapes from him for the murdered woman Stride, a short time before the murder was committed. He alleges that he had often seen the man before the murder, as well as the woman; but he had not seen anyone resembling the man since the murder ___ Saturday night. He was then standing with his fruit stall in the Commercial Road when he observed the man staring him full in the face. After passing and repassing him several times, the man got into the roadway and looked at him in a menacing manner. Packer was so terrified that he left his stall and asked a shoeblack, who was near, to keep his eye on the man. His fear was that the fellow was going to stab him. No sooner, however, had he called the shoeblack's attention to the man than the latter ran away and jumped onto a passing tramcar.[10]

Another incident involving Packer occurred at the time of the discovery of the Pinchin Street Murder in 1889. He claimed to have been attacked on his doorstep by somebody who mentioned the Ripper, spending three weeks at the London Hospital as a result. This story is as yet unconfirmed by contemporary sources, however.
References
External Links
Matthew Packer - Final Thoughts, Dave Yost Dissertation at Casebook
The Second Sighting of Matthew Packer Casebook Forums discussion