Stephen White
From Jack the Ripper Wiki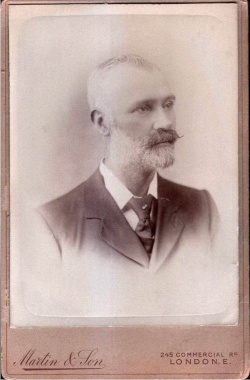 Sergeant Stephen White
Born 25th May 1854 in Oare, Faversham district, Kent. Son of George White, Labourer and Hannah White (Born Kennett also married previously to somebody named "Sparks").
By 1861, White was living in Standard Square (possibly No. 5), Faversham, Kent with his parents, brothers George, aged 10 (this is possibly George Sparks), Alfred, aged 5 and sister Esther, aged 1.[1] Later recorded as living a 5 Standard Square with his parents, sister Esther (aged 11) and brother Alfred (aged 8).[2] Married Olive Fletcher on 23rd April 1875, when living at 5 Standard Square, Faversham,Kent. (Marriage Certificate)
Joined Metropolitan Police on 11th October 1875 (warrant no.59442), stationed at L Division, Kennington, Lambeth.[3]
White's daughter Edith was born 23rd April 1878 when living at 28 Henry Street, Upper Kennington Lane, Lambeth.
In 1881, the family was living at 28 Gilbert Road, Lambeth, Surrey, with wife Olive, daughter Edith and Lodger James Taylor who was 43 and whose occupation was 'Time Keeper'.[4]
On 26th July 1881, White was promoted to Police Sergeant, Third Class and on 4th August was transferred to H (Whitechapel) Division.[5]
The following year, son Percy was born (on 17th February) and the family was now living at 77 Rutland Street, Mile End.
Promoted to Police Sergeant, Second Class on 4th November 1886.[6]
On 30th September 1888, Sergeant White was sent by Inspector Abberline to make house-to-house enquiries in Berner Street following the murder of Elizabeth Stride, accompanied by PC Dolden. White interviewed Matthew Packer, as well as Packer's wife and other lodgers at his home in Berner Street.[7] Packer was interviewed by White again on the 4th October.[8]

In 1891, White was listed as living at 55 Bromehead Street, Mile End[9] with his wife and two children and on 26th December the same year was transferred to S (Hampstead) Division, promoted to Police Sergeant, First Class. In April 1893 he was posted back to H-division, becoming Local Inspector on 9th October 1895.[10]
He retired on 15th October 1900.
Pension details:
Age on Resignation: 46 years
Length of Service: 25 years 4 days.
Remuneration at date of retirement: £3 and 19 shillings per week.
Height: 5ft 10 1/2 inches
Hair: Grey
Eyes: Brown
Complexion: Fresh
Particular Mark, Defect or Infirmity by which he may be identified: Nil.
Address 39 Senrab Street, Mile End.
White's retirement was written about in the local East London press:
In Inspector Stephen White, of the Criminal Investigation Department, who retired from the service on Saturday, London loses one of the smartest detectives the force has ever known. Mr. White joined the police 26 years ago, and was first stationed in the L division at Kennington. His abilities were soon recognised, and he became a member of the old detective force. When Mr. (now Sir) Howard Vincent took office as the head of the Criminal Investigation Department, Mr White was promoted to sergeant, and in 1880 was transferred to Leman-street, Whitechapel, the head quarters of the H division, where he passed through all the grades until he became the chief of the local staff, and now retires on a full pension, and with the respect and best wishes of all his fellow officers. Among a few of the important captures made by Mr. White were those of the dynamitards, Cunningham and Burton, at the Tower of London, at the time of the explosion there, for which services he was rewarded and commended by the Home Office. In 1879 he discovered a Fenian Arsenal in the New Cut, Lambeth, and captured the proprietor, who received a long term of penal servitude. He has had, perhaps, a greater experience of murders than any other officer in the department, being engaged in the whole of the "Jack the Ripper" crimes in the East End. He was also connected with the notorious cases of Harry Alt, who murdered a German baker in Turner-street; Sullivan, the St. George's murderer; Cronin, the Limehouse assassin; Ronin, who committed murder in Angel-court, Whitechapel; Seaman, who killed an aged Jew and his housekeeper in Turner-street; Karaczewski the Pole, who shot a man and woman dead in Brick-lane; Kate Marshall, who killed her sister in Dorset­-street, in the very same house where the last Ripper murder was committed. Keepers of private stills, which at one time were very common in the district, had good reason to fear Mr. White, his record of the last year alone being 16 prosecutions. A clever musician, a witty and fluent speaker, he has contributed as an entertainer to the enjoyment of many thousands in all parts of the country, and many a thief who considered himself an expert in palming has had reason to regret that Mr. White was a professor in the art of legerdemain.[11]
In 1901, Stephen and Olive White were listed as living at 39 Senrab Street, Mile End.[12] At the time of the census, there was also a visitor, Isaac Alfred Hopping (who was related to Olive). Daughter Edith was also staying at the above address with her husband Alfred and their two children, Mina (aged 4) and Stanley (aged 2). Percy was living nearby at 47 Arbour Square, Mile End. His occupation was given as 'railway detective'.[13]

WHITECHAPEL
At Shoreditch, ex-Insp. Stephen White, of the Criminal Investigation Department, H Division Metropolitan Police was presented with a purse containing 100 guineas, subscribed by the local members of Parliament, tradesmen and friends, on his retirement from the Force after upwards of 25 years' service. It was incidentally mentioned during the proceedings that Mr. White had recently been the recipient of a handsome gold watch from his colleagues at Scotland Yard, and a gold-mounted walking-stick from the officers who served under him whilst in the Force.[14]

Stephen White died on 17th September 1919. Cause of death was carcinoma of the prostate, for which he was operated on at the London Hospital (date unknown). He died at home, which was still 39 Senrab Street. His son Percy was listed as informant and he was living at 220 Risley Avenue, Tottenham. Death was certified by Dr H Richardson M.R.C.S. but there was no post-mortem.

DEATH OF FAMOUS EAST-END DETECTIVE. OFFICER WHO JUST MISSED CATCHING THE MYSTERIOUS "JACK THE RIPPER."
One of the smartest detectives the Metropolitan Police Force ever knew has passed away in ex­Detective-Inspector White who retired from the C.I.D. in 1900 after completing 27 years' service. After a few years he was promoted to a sergeant and was transferred from Kennington to Leman Street, Whitechapel. There he made several important captures, among them being the arrest of the dynamitards, Cunningham and Burton, at the Tower of London at the time of the explosion there, for which service he was rewarded and commended by the Home Office. In 1879 he discovered a Fenian arsenal in the New Cut, Lambeth, and captured the proprietor, who was sentenced to a long term of penal servitude. His experience of murders, was perhaps unique. He was engaged on the whole of the Jack the Ripper crimes which caused such a grim sensation among East Enders. One night he was on what appeared to be a certain clue to the mysterious murderer of women in the Whitechapel region. He kept watch in an East End street, but the murderer's movements were not in accordance with anticipation. For about ten minutes only he left the street, and to his amazement he found on his return that a woman had been stabbed. He saw no man anywhere, and the mystery became even more baffling. As is well known, Jack the Ripper was never discovered. Mr. White was also associated with the notorious case of Harry Alt, who murdered a German baker in Turner Street; Sullivan the St. George in the East murderer; Cronin the Limehouse assassin; Roman, who committed murder in Angel Court, Whitechapel; Seaman, who killed an aged Jew and his housekeeper in Turner Street; Karacrewski, the pole, who shot a man and woman dead in Brick Lane; and Kate Marshall, who killed her sister in Dorset Street, in the very house where the last Ripper murder was committed. It is interesting to note that a son of his is a detective at the G. P. O. The funeral took place on Tuesday.[15]
White has also come under dubious scrutiny as perhaps the only officer involved in the case to actually set eyes on the killer. A newspaper article, published shortly after his death reproduced what was allegedly a section of one of his many reports:
"For five nights we had been watching a certain alley behind the Whitechapel Road. It could only be entered from where we had two men posted in hiding, and persons entering the alley were under observation by the two men. It was a bitter cold night when I arrived at the scene to take the report of the two men in hiding. I was turning away when I saw a man coming out of the alley. He was walking quickly but noiselessly, apparently wearing rubber shoes, which were rather rare in those days. I stood aside to let him pass, and as he came under the wall lamp I got a good look at him.
"He was about five feet ten inches in height, and was dressed rather shabbily, though it was obvious that the material of his clothes was good. Evidently a man who had seen better days, I thought, but men who had seen better days are common enough down East, and that of itself was not sufficent to justify me in stopping him. His face was long and thin, nostrils rather delicate, and his hair was jet black. His complexion was inclined to be sallow, and altogether the man was foreigh in appearance. The most striking thing about him, however, was the extraordinary brilliance of his eyes. They looked liked two very luminous glow worms coming through the darkness. The man was slightly bent at the shoulders, though he was obviously quite young - about thirty three, at the most - and gave one the idea of having been a student or professional man. His hands were snow white, and the fingers long and tapering.
"As the man passed me at the lamp, I had an uneasy feeling that there was something more than usually sinister about him, and I was strongly moved to find some pretext for detaining him; but the more I thought it over, the more I was forced to the conclusion that it was not in keeping with British Police methods that I should do so. My only excuse for interfering with the passage of this man would have been his association with the man we were looking for, and I had no real grounds for connecting him with the murder. It was true I had a sort of intuition that the man was not quite right. Still, if one acted on intuition in the Police force, there would be more frequent outcries about interference with the liberty of subject, and at that time the Police were criticized enough to make it undesirable to take risks.
"The man stumbled a few feet away from me, and I made that an excuse for engaging him in conversation. He turned sharply at the sound of my voice, and scowled at me in a surely fashion, but he said "Good-night" and agreed with me that it was cold. His voice was a surprise to me. It was soft and musical, with just a tinge of melancholy in it, and it was a voice of a man of culture - a voice altogether out of keeping with the squalid surroundings of the East End.
"As he turned away, one of the Police officers came out of the house he had been in and walked a few paces into the darkness of the alley. "Hello! what is this?" he cried, and then he called in startled tones to me to come along. In the East End we are used to shocking sights, but the sight I saw made the blood in my veins turn to ice. At the end of the cul-de-sac, huddled against the wall, there was the body of a woman, and a pool of blood was streaming along the gutter from her body. It was clearly another of those terrible murders. I remembered the man I had seen, and started after him as fast as I could run, but he was lost to sight in the dark labyrinth of the East End mean streets."[16]

This piece may have had some initial grounding in true events, but as White did not appear at any victim inquest and the cul-de-sac described does not fit any known Ripper murder site, the veracity of the article, written by 'a Scotland Yard man' with uncorroborated sources, is questionable.[17]
References
Information for this article supplied by Robert Clack.