Berner Street
From Jack the Ripper Wiki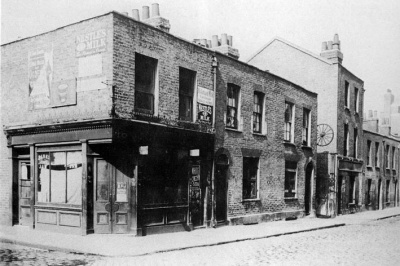 Murder site of Elizabeth Stride (see Dutfield's Yard for more detail). Now called Henriques Street. - London E1, St George-in-the-east.
Thoroughfare running north-south from Commercial Road to Boyd Street. First appeared on Horwood's map of 1807 when it was little more than an incomplete cul-de-sac. Possibly named after Charles Berner, a trustee of the vestry of St George-in-the-east[1], it had become fully developed by the 1830s[2]. The northern and southern stretches either side of Fairclough Street were originally named Lower and Upper Berner Street respectively and the street ran south as far as Ellen Street. The two separately named halves were redesignated as simply Berner Street in 1868.[3]

In 1888, Berner Street contained a variety of buildings, most notably a row of houses on the east side, broken by Sander Street and Dutfield's Yard which divided Nos.40 and 42. No.40 was the International Working Men's Educational Club, a wooden building that was very old, even by 1888. A small arch between Nos. 30 and 32 led to Batty's Gardens, and opposite was a board school, built in 1885. At No.46, on the corner with Fairclough Street, was the Nelson beer house.
The Berner Street/Dutfield's Yard area was the first murder site to be redeveloped, being demolished in 1909 to make way for a new school which is today the Harry Gosling Primary School. Stride's murder site is now part of the playground. The original 1871 board school opposite was replaced by the Bernhard Baron settlement, a centre for Jewish boys set up by local benefactor Basil Henriques. On his death in 1961, Berner Street was renamed in his honour and until 2006, both old and new street names were displayed at the Commercial Road end.
Apart from contemporary press sketches, there is little photographic material of the relevant site - several older photos of Berner Street exist, from the 1920s and 30s, taken by Leonard Matters and William Stewart. However, a series of excellent photographs taken on 7th April 1909 of the entire block prior to demolition show the north-east side of Berner Street, including the entrance to Dutfield's Yard. Until 2007, this was the nearest any photograph had got to showing the actual murder spot.
References
↑ 'Murder in the Neighbourhood', Tom Wescott, Ripper Notes #27 (Inklings Press 2007)
↑ C & J Greenwood, Map of London, 1827 (updated 1830)
↑ The London of Jack the Ripper: Then and Now, Robert Clack and Philip Hutchinson (Breedon 2007)