Essex Wharf
From Jack the Ripper Wiki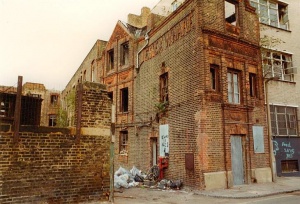 Name generally given to the building on the north side of Buck's Row directly opposite the murder spot of Mary Ann Nichols. In fact, Essex Wharf was the designation of the site upon which it stood, including a number of other buildings which abutted onto the East London Railway.
The building which faced Buck's Row was a three-storey brick-built construction, probably erected in the mid-late 1870s and which was mostly used as offices. The name 'Essex Wharf' was built into the brickwork on the western side. In 1888, the manager was Walter Purkiss (a former resident of New Cottage opposite[1]) who lived there with his wife Mary Ann, children and a servant. Walter and his wife occupied the front first-floor room and on the night/morning of Nichols' murder heard nothing untoward, despite Mary Ann being awake for much of the night.[2]
After 1888, Essex Wharf was designated 43 Durward Street and became home to a variety of businesses, from cap manufacturers to builders and its last owners were S. Rosenberger Coates & Co., makers of men's ties (until the early 1980s). After it was abandoned, the building fell into disrepair before being demolished in 1990.[3]
References
↑

Census reports 1881

↑ Inquest report, The Times, 18th September 1888
↑ The London of Jack the Ripper: Then and Now, Robert Clack and Philip Hutchinson (Breedon 2007)