Winthrop Street
From Jack the Ripper Wiki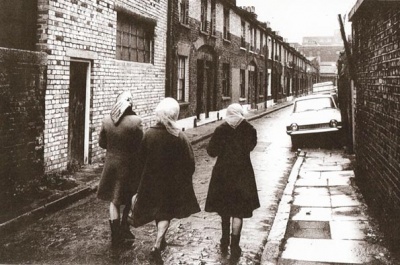 Partly demolished.
Formerly a narrow street running east-west from Brady Street to Durward Street. Originally part of Ducking Pond Row, it started being built up in the first decades of the 19th century when it was known as Watson's Buildings. Running from its south side were Wood's Buildings, Hope Place, Gossips Gardens and North Place; its north side was the site of several separate small properties.[1]

By 1873, it had been renamed Little North Street - Brady Street was called North Street at this time - and had been subject to much rebuilding. A 'National School for Boys and Girls' stood at the western end (north side) and continued with a row of terraced cottages identical to and backing on to those in Buck's Row.[2]

Following the construction and opening of Whitechapel Underground Station in 1876 and the excavation of ground to accommodate the new railway lines, the school was replaced by a new Board School, constructed in 1876-7. On the south side, as well as a small row of dwellings, was the premises of Harrison, Barber & Co, horse slaughterers, employers of James Mumford, Henry Tomkins and Charles Bretton. Adjacent to Wood's Buildings was the recreation ground of the Working Lad's Institute[3]. Little North Street was renamed Winthrop Street on 12th October 1883[4]

As well as being the site of Harrison, Barber & Co, it was also where Patrick Mulshaw, nightwatchman at a sewage works claimed to have seen an unidentified man who said to him "Watchman old man, I believe somebody is murdered down the street" as he passed[5]. James Mumford lived at 22 Winthrop Street with his wife and children, Charles Bretton lived at No.42 and Alfred Barber, proprietor of the slaughterhouse, lived at No.19[6]. Harrison Barber & Co continued to own property on the street as late as 1968.[7]

The south side of Winthrop Street was heavily redeveloped c.1900 following the construction of yet another railway link (Whitechapel and Bow Railway). It also appears that the terraced houses on the north side were subject to war damage (1939-45)[8]. These properties were demolished in January 1972 along with those in Durward Street[9][10] and the road remained derelict until the construction of Kempton Court in 1995. As a result, Winthrop Street was severely shortened to provide access to Kempton Court's residents car-park.
References