Whitechapel High Street
From Jack the Ripper Wiki
London E1 (Whitechapel).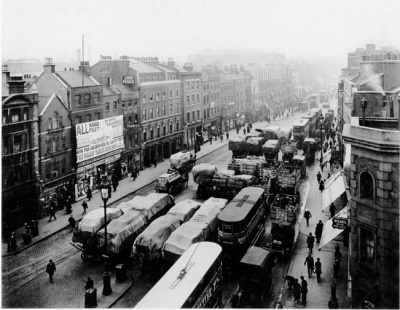 Whitechapel High Street runs approximately west-east from Aldgate High Street to Whitechapel Road and is designated as part of the A11.
Forming part of the main road from Aldgate to Essex and known originally as Algatestreet[1], it was paved as early as the reign of Henry VIII, although John Stow described its shabbiness as "no small blemish on so famous a city"[2]. Owing to its importance as a major thoroughfare out of London, its sides were built up early and included many coaching inns and taverns. Although some remain (in name only), many of these hostelries were closed following the arrival of the railways in the 19th century.
Whitechapel High Street becomes Whitechapel Road after the intersection with Osborn Street and Whitechurch Lane. It was also the location of the Whitechapel Haymarket, first given its charter in 1708 and abolished in 1929.
Notable streets and locations on Whitechapel High Street:
(North Side)
(South Side)
Whitechurch Lane
London Metropolitan University
Leman Street
Aldgate East Underground Station
Gardiner's Corner (former junction with Commercial Road)
White Swan public house (No.20, demolished)

On the evening of 6th August 1888, Martha Tabram was seen at 11pm with Mary Ann Connelly entering the White Swan public house by Tabram's sister-in-law Ann Morris. Connelly and Tabram parted company on Whitechapel High Street at about 11.45pm, with the former taking her client into Angel Alley and the latter going into George Yard with her man. Both clients were soldiers[3].
Whitechapel High Street crossed the busy junction of Commercial Road, Leman Street and Commercial Street, marked by the prominent clock tower of Gardiner's department store. This local landmark was closed in 1965 and following a fire in 1972 was demolished soon after[4].
Much of the north side of the High Street is a mixture of 19th and 20th century buildings. The world famous art gallery and former library were constructed in 1897-9. The western corner with Goulston Street has remained empty since the demolition of the first Aldgate East Underground Station. The Aldgate Exchange public house was created in the 1990s and is currently the venue for meetings of The Whitechapel Society 1888[5].
The south side has been effectively decimated by late-20th century redevelopment, particularly following the construction of the one-way system at Gardiner's Corner, 1964-66. The London Metropolitan University building dates from 1965. Further building work is currently ongoing (2009)[6]. Much of this new redevelopment is evidence of an easterly (and perhaps inevitable) encroachment by the City from Aldgate.
References