Angel Alley
From Jack the Ripper Wiki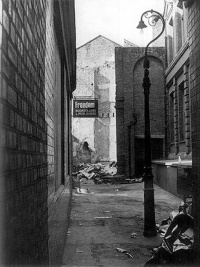 Whitechapel, London E1.
A narrow passage which in 1888 ran north-south from Wentworth Street to Whitechapel High Street.
The alley sits immediately to the east of George Yard, evident as early as 1676[1] and named after the Angel Inn which stood on its south-west corner with Whitechapel High Street. Known in the 19th century for its Irish tenants who aggressively managed to keep rent-collectors at bay for considerable periods of time.
The northern end of Angel Alley consisted of several lodging houses, initially owned by Samuel Magill from 1866-72 and then by George Wildermuth from 1873-8.[2]
At approximately 11.45pm on the night of 6th August 1888, after spending the evening with Martha Tabram and two soldiers, Mary Ann Connelly, aka 'Pearly Poll' took one of the soldiers into Angel Alley presumably for sex, whilst Tabram did likewise in George Yard.[3]
The northern end of the alley was heavily redeveloped following the building of Wildermuth's Lodging House in 1893, which effectively made it a much shorter dead-end. The Angel Inn also seems to have ceased trading during this period.[4]
It is now best known as the home of the anarchist 'Freedom' press and bookshop and since 2007 has been incorporated into the Whitechapel Art Gallery as a side entrance. Access is also possible from an open car-park space on the east side of Gunthorpe Street.
The 'Angel Alley' street-sign still remains.
References
External Links