George Yard Buildings
From Jack the Ripper Wiki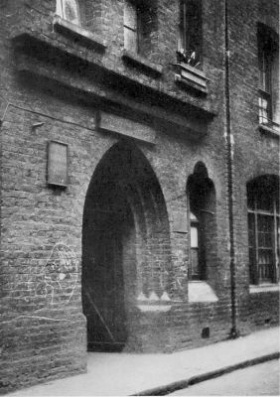 Murder site of Martha Tabram, 7th August 1888.
Demolished
A model lodging house constructed c.1875 in George Yard on the site of New Court and a former timber yard following the demolition of slums by the Metropolitan Board of Works[1]. It was just before the western corner of George Yard and Wentworth Street.
Little is known of the interior structure of George Yard Buildings, however there was a central entrance arch which led to communal staircases leading to rooms on the upper floors (there were four floors in total). There were also three concrete balconies to the rear with gave access to upper rooms at the back of the building[2]. It can be ascertained that there were 48 separate lodgings in the building[3]. The staircases were lit, but as a rule, all lights were extinguished at 11pm. In 1888, the building was occupied by members of the 'poor labouring class'.
Martha Tabram's body was found on the first floor landing by John Reeves of No.37 at approx. 4.50am[4]. It was also the home of witnesses Elizabeth Mahoney (No.47) and Alfred Crow (No.35)[5].
Comments about the nature of the residents of the buildings published in The People[6] prompted a response from Francis Hewitt, the superintendent:
Sir, - My attention has been drawn to a report in your issue of the 12th inst. Under the above heading. In it the following statements occur:- (1) That a number of the tenants of George Yard Buildings "let beds by the night to travellers." (2) That consequently, "men go there with women, whom they represent to be their wives." On behalf of the tenants, I beg to give these statements an unqualified denial. Beds are let by the night in this locality, but never in these buildings.
- Yours, &c., FRANCIS FISHER HEWITT
George Yard Buildings, Whitechapel, August 17th, 1888[7]
In 1890, the dwellings were converted for use as lodgings for students working from the Toynbee Hall settlement and renamed Balliol House. A small dining hall was also added to the rear[8]. It was later renamed 'Charles Booth House'.
George Yard Buildings were demolished in January 1973 along with neighbouring St. George's House[9], both being replaced by Sunley House.
Apart from a few sketch illustrations, depictions of George Yard Buildings are uncommon. Photographs have been taken by William Stewart (1938), Stewart P Evans (1967) and Winston G Ramsey (1972). Ramsey managed to acquire the iron gate which enclosed the entrance arch just prior to demolition and set it up as a feature in his garden[10]. An undated photograph of the rear of the premises was also found in the Toynbee Hall Archives in 2008.
References