Amelia Palmer
From Jack the Ripper Wiki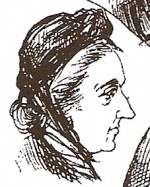 Witness at Annie Chapman's inquest. (Also known by the surname 'Farmer')
Described as pale-faced and dark haired[1] , she worked as a washer and cleaner for local Jewish residents after her husband Henry had sustained an injury which had limited his ability to find work. She had been living in the common lodging house at 30 Dorset Street for the previous four years, was a friend of Chapman and had been able to identify her body, claiming Annie to go by the name of 'Sivvey'. She was also able to furnish the police with some biographical details about the deceased and told the inquest about the fight that had occurred between Annie and Eliza Cooper.
She had seen Chapman several times during the week before her murder - earlier in the week, they met in Dorset Street where Annie had reported feeling unwell. The next day they met again outside Christ Church Spitalfields; again, Annie was complaining of feeling ill and Palmer gave her 2d, warning her not to go spending it on drink.
They met again towards the end of the week and this time, Chapman complained of feeling too unwell to do anything (she was meant to go to Stratford), but stated that "it's no good my giving way. I must pull myself together and go out and get some money or I shall have no lodgings".[2])

This was the last time Palmer saw Annie alive.
References
↑ The Jack the Ripper A-Z, Begg, Fido, Skinner (Headline 1991)
↑ Inquest report, The Times, 11th September 1888