Charles Guiver
From Jack the Ripper Wiki
Witness at Frances Coles' inquest.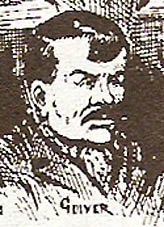 Born c.1857. Watchman at Spitalfields Chambers, a common lodging house at 8 White's Row, Spitalfields.
Guiver's first appearance at the inquest was cut short because he was yet to identify Coles' body in the mortuary. He said he knew the deceased for the past three years as a casual lodger, going by the name of Frances. She only stayed at 8 White's Row one or two nights a week, but was known as a prostitute, often bringing different men into the house. After this initial testimony, he was sent to the mortuary to identify the body.
He was further questioned on his return:
The witness Gyver [sic], having returned from the mortuary, said, - I recognize the body as that of a woman I knew as Frances. I remember her coming in on Wednesday night about 10 or 10:30. She was with Sadler. I first saw her standing by the office door. Sadler was standing at the bottom of the staircase. I showed them upstairs to their room. They remained in bed until after 9 o'clock on Thursday morning. I did not see them go out. About 10 o'clock at night I saw Frances come into the kitchen drunk. She went and sat on a form near the fireplace, and rested her head on the table. Sadler came in and said he had been robbed of 3s. 6d. in Thrawl-street. His face was bleeding, and I advised him to go out into the yard and wash the blood off. He went, and when he came back he looked as if he had been thrown down and got the gravel rash. I did not notice any blood on his clothes. He began wrangling with the lodgers in the kitchen and creating a disturbance. He said he had given Frances a shilling previously to pay for the bed.
Mr. Mathews. - What time did you turn him out?
Witness. - A little before 12 o'clock at night.
Mr. Mathews. - How long did Frances remain there?
Witness. - Till 1:30 or 1:45. She was in the kitchen all the time.
A juryman. - How do you know the time? Did you look at the clock, or is it only guess-work on your part?
Witness. - Guess-work; but I am sure it was after 1, for I had cleaned one kitchen up, and that is about the time I usually get that work done. Frances was in the other kitchen.
The CORONER. - Are you sure of the interval of an hour or so between Sadler going out and Frances going out?
Witness. - Quite sure. I saw her go through the passage towards the street door. She had a hat on when she went out. She had two hats when she came in. She threw one on to the fire, and one of the woman took it off again.
Mr. Mathews. - Did you see Sadler come back that morning?
Witness. - Yes, just after 3 o'clock. I know the time, as I was going to call a man up to go to his work and had just looked at the clock.
Mr. Mathews. - Did Sadler knock at the door?
Witness. - The door was open. I was sweeping up, and he asked me to let him come into the kitchen. I said, "I have no power, you must ask the deputy," Blood was running down his face, and he said he felt faint.
Mr. Mathews. - What did he say?
Witness. - He said, "I have been knocked about and robbed in the Highway." I said, "What, have you been at it again? I thought you were robbed of 3s. 6d. in Thrawl-street, and that was all you had." He said, "Well, they thought I had some money about me, but I had none." The deputy then opened the office window and asked what he wanted, and he said, "Let me go into the kitchen; I feel so faint." The deputy refused to allow him to go, and he then asked me again. I told him I could not, and advised him to go to the London Hospital and get his head seen to. I did not notice any blood on his clothes. His clothes were dirty, as though he had been on the ground again. I went down into the kitchen, and Mrs. Fleming called me shortly afterwards and told me to put Sadler out. I went towards him, but he walked out of his own accord. That would be about half-past 3. I did not see Sadler again till Sunday, when I went to the Leman-street Police-station and then recognized him as the man I had seen on the night of the 11th, the night of the 12th, and the morning of the 13th inst.
A juryman. - When Sadler returned at 3 a.m. did he ask after Frances?
Witness. - No.
A juryman. - And was he knocked around worse?
Witness. - Yes.[1]

Charles Guiver died soon after the inquest on 25th February 1891 at 8 White's Row. Dr. William Dukes was called to pronounce life extinct.[2]
References
↑ Inquest report, The Times, 18th February 1891
↑ East London Advertiser, 28th February 1891