Spitalfields Chambers
From Jack the Ripper Wiki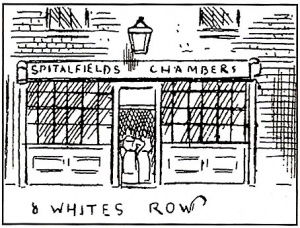 Demolished.
Common lodging house at 8 White's Row, Spitalfields.
Possible victim Annie Millwood was admitted into the Whitechapel Workhouse Infirmary on Saturday, February 25, 1888 from 8 White's Row, suffering from 'numerous stabs in the legs and lower part of the body'. Apparently, she had been stabbed with a clasp knife by a man she did not know. Nobody witnessed the attack[1]. Although Millwood made a recovery, she died of natural causes on March 31st 1888.
Spitalfields Chambers features significantly in the events surrounding the murder of Frances Coles. Coles and James Sadler spent the night of 11th February 1891 there, paying for a double bed. They left the following morning, after which they spent the rest of the day drinking in various pubs. They later separated (after Sadler was attacked in Thrawl Street), but eventually, Sadler found Coles at the lodging house where they quarreled before once again going their separate ways.
Other individuals resident at Spitalfields Chambers at the time of the Coles murder were watchman Charles Guiver, deputy Sarah Fleming and Samuel Harris. The lodging house was also referred to as White's Row Chambers at this time.[2]
Spitalfields Chambers was replaced by a modern building in the late 1990s.
References
↑ Eastern Post, 7th April 1888
↑

Statement by James Sadler, 14th February 1891, MEPO 3/140, ff.97-108