White's Row
From Jack the Ripper Wiki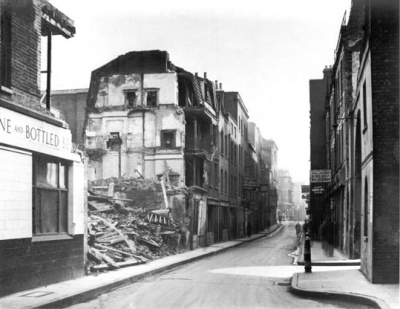 Spitalfields, London E1.
Narrow thoroughfare running east-west from Commercial Street to Crispin Street. It originally formed the northern boundary of the Tenter Ground estate from around 1650 and the southern side was built up by Nathaniel Tilly quickly thereafter. The northern side followed suit in the 1670s. By the late 1600's, the street was known as 'New Fashion Street'[1]. By 1707, the Tilly properties were owned by Nathaniel Shepherd (their names were commemorated in Shepherd Street - now Toynbee Street - and Tilley Street, now demolished) and under Shepherd's lease, No.5 White's Row was built in the 1730s (and is still standing)[2]. Access to the Tenter Ground Estate was also accessible by a large covered arch known as Shepherd's Place, constructed in the early 1800s.[3][4]
By the late 19th century, White's Row had become considered part of the slums of Spitalfields. It was home to a number of lodging houses, Nos. 8 (Spitalfields Chambers), 26, 35 and 36, although the latter three had been closed by 1854.[5]
Spitalfields Chambers was home to possible Ripper victim Annie Millwood at the time she was attacked on 25th February 1888[6].
The 'Paul's Head Tavern' public house on the northern corner with Crispin Street was where the Whitechapel Vigilance Committee held a meeting on 13th November 1888 in order to consider how they may be able to assist the police following the murder of Mary Jane Kelly.[7]
Spitalfields Chambers was also where James Sadler and Frances Coles stayed on the night of 11th February 1891 and where they met the following evening after quarreling when Sadler was mugged in Thrawl Street.[8]
Apart from No.5, much of White's Row was redeveloped in the 20th Century. The western end was destroyed by bombs during the Second World War[9]. The most significant change came in 1963 with the demolition of the northern side to make way for a van and lorry park, opened in April 1964. The current White's Row Multi-storey car park was built c.1971 in its place.
References