Horn of Plenty
From Jack the Ripper Wiki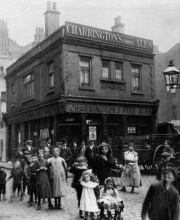 Demolished.
Former public house at 5 Crispin Street, on the northern corner with Dorset Street. In 1888, the proprietor was Christopher Bowen and it was a Charrington's house..[1]

Unsubstantiated oral history (from a nun at the Providence Row Night Refuge opposite) has it that Mary Jane Kelly used to drink there. No doubt she did from time to time as suggested by events around the time of her murder. Maurice Lewis apparently saw her drinking there on the evening of 8th November 1888 with 'Julia' and 'Dan' (the latter probably being Joseph Barnett on the strength of Lewis' description).[2]
The pub has been described as 'rough'[3] and several entries in Old Bailey trial records feature it. Most notable are two entries from 1904; the first involved George Plumb who was beaten and robbed outside after his assailants Cecil Landon and Walter Bowen were refused service; the other saw William Heggarty buying two strangers a drink - as he left, they robbed and assaulted him, leading to treatment in the London Hospital.[4]
The pub was demolished in 1928 to make way for additions to Spitalfields Market.
References