John Davis
From Jack the Ripper Wiki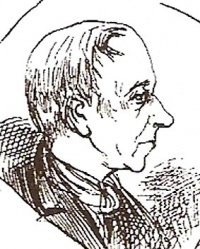 Witness at Annie Chapman's inquest.
Born 1832 in Spitalfields. Married to Mary Ann (b.1838) with four children; Mary (b.1856), James (b.1865), Benjamin (b.1868) and David (b.1870). In 1871 the family were living at 27 Grey Eagle Street and John was described as a coal dealer.[1]
Davis was decribed as an elderly carman (although he was only 56), living in the third-floor front room of 29 Hanbury Street. He had been living there with his wife and three sons for approximately two weeks prior to the murder.
On Friday, September 7th 1888, he had gone to bed at approximately 8.00pm; his sons came in at different times thereafter, the last one at about 10.45pm. Davis was awake between 3.00am and 5.00am on the morning of the 8th, before falling back to sleep for half an hour. He got up at 5.45am. He was certain of the time as he heard the clock of Christchurch chime.
When he went downstairs to the backyard, he noticed that the front door of the house was wide open (not unusual) and that the back door leading to the yard was shut. When he entered the yard, Davis saw the body of Annie Chapman.
He did not go any further into the yard, but ran out into the street where he saw two men whose names he did not know (actually James Green and James Kent) and after telling them of his discovery, they went to see the body for themselves. Davis left the house with them and went to Commercial Street Police Station to report what he had seen. He did not alert any other residents of No.29 to the discovery and though he returned to Hanbury Street, he did not re-enter the house until the afternoon.
Davis did not know the deceased and heard nothing suspicious during the night.[2]
The Davis family (apart from the eldest daughter) were still living at No.29 in 1891.[3]
References
↑

Census reports 1871

↑ Inquest report, The Times, 11th September 1888
↑

Census reports 1891