Timothy Donovan
From Jack the Ripper Wiki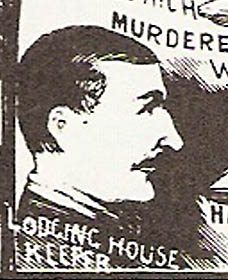 Witness at Annie Chapman's inquest.
Deputy of Crossingham's Lodging House, 35 Dorset Street, Spitalfields.
At Chapman's inquest, Donovan stated that he had seen the body in the mortuary and identified it as being that of a woman who had been staying at the lodging house for about four months.At about 7.00pm on 7th September 1888, she had asked him if she could use the kitchen and when he asked where she'd been, she replied "the infirmary". When she left the house at approximately 1.45am the following morning, she asked him to keep her regular bed. He chastised her, saying that she could find money for drink but not for her bed. She had obviously been drinking, but in Donovan's eyes seemed to be able to walk straight enough. He did not see which way she turned when she left and did not see her with anyone that night.[1]
Donovan stated that he had never had any trouble with Chapman and that she was always very friendly with the other lodgers. Despite this claim, he noticed her black-eye (received in a fight with Eliza Cooper) on 30th August to which Chapman said "Tim, this is lovely, ain't it".[2]
He was also able to identify the handkerchief that Chapman had been wearing round her neck - he said she'd bought it off another lodger a week or two before her death and had been wearing it on the morning of her murder.[3]

It has been put forward that he may be the Timothy Donovan aged 29 of Russell Court, St. George's in the East who died of Cirrhosis of the liver, Phthisis and exhaustion at London Hospital on November 1, 1888. Alternatively, he may also be the Timothy Donovan, aged 30, who appeared repeatedly in Thames Magistrates Court through 1887-88 on charges of assualt. This Timothy Donovan is almost certainly the same one who was indicted for murdering his wife Mary, in Stepney in 1904.[4]

These possibilities however, have no back-up evidence to suggest that either of them are Donovan the deputy of Crossingham's.
References