Crossingham's Lodging House
From Jack the Ripper Wiki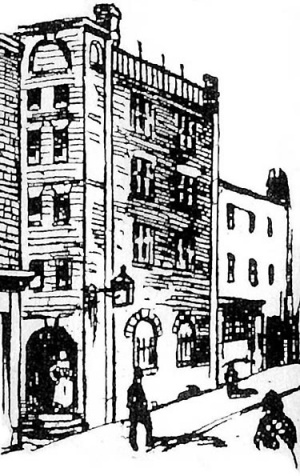 Demolished.
Common lodging house situated at 35 Dorset Street (north side), Spitalfields, at the eastern corner with Little Paternoster Row. First registered on 5th March 1887 and owned by William Crossingham of Romford, it featured prominently in the lives of several people associated with the Whitechapel Murders. In 1888, the manager (deputy) was Timothy Donovan. It was licensed to house 114 boarders on four floors plus a basement.[1]

Annie Chapman had been lodging there regularly from May 1888. On the night prior to her murder, Donovan had allowed her into the kitchen - it was here where she, slightly the worse for drink, put some pills into a piece of torn envelope after the box that held them had broken. She later left to get a drink but had returned by 1.35am (8th September), eating a baked potato. Donovan asked her for her doss money, but she didn't have it. She left saying "Don't let the bed, I'll be back soon".
It was also here where Chapman quarrelled with Eliza Cooper in the week prior to her murder.[2]
Mary Ann Connelly had also been living at Crossingham's for about four to five months prior to accompanying Martha Tabram on the night of her murder, 7th August 1888.[3]
The character known as 'Leather Apron' was also seen in the lodging house by Donovan some time before the murders began. He was wearing a deerstalker hat and had to be ejected after threatening a woman. He had returned on a number of subsequent occasions, but had been refused entry[4]. Another resident of Crossingham's, known only as West, also claimed to know Leather Apron by sight and had seen him at the lodging house. Whether 'Leather Apron' in this case was actually John Pizer is not known.[5]
Strangley, the address of Mary Ann Nichols was given as 35 Dorset Street on her death certificate, although sources state that she was living either at 56 Flower and Dean Street (The White House) or 18 Thrawl Street (Wilmott's Lodging House) in the weeks prior to her death.
William Crossingham also owned a lodging house of the same name at 15-19 Dorset Street (sometimes referred to as Commercial Street Chambers) opposite the entrance to Miller's Court, which has occasionally led to confusion by authors. George Hutchinson supposedly stood outside this Crossingham's for three-quarters of an hour on the morning of 9th November 1888, after he had watched Mary Jane Kelly go into Miller's Court with a man.[6]
Subsequently, Mary Ann Austin was found with multiple stab wounds at Crossingham's on the morning of 26th May 1901. She died from her injuries later that day.[7]

Crossingham died of kidney disease at his home in Romford on 28th February 1907 and all his properties (which included more in Dorset Street, White's Row and Little Paternoster Row) were passed over to William Hunnible who continued to run them as lodging houses.[8]

Crossingham's was demolished along with the entire north side of Dorset Street in 1928.
References