Elizabeth Tanner
From Jack the Ripper Wiki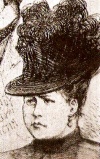 Witness at Elizabeth Stride's inquest.
A widow and deputy of the lodging house at 32 Flower and Dean Street. She identified Elizabeth Stride in the mortuary as a woman known as 'Long Liz' who had been staying at the lodging house on-and-off for about six years. She did not know Stride's real name, but knew she was Swedish. Like Charles Preston and Catherine Lane, Tanner had been told by Stride that she was widowed and that her husband and children had perished in the Princess Alice disaster in 1878.
She saw Elizabeth Stride at around 6.30pm on Saturday 29th September in the Queen's Head pub on Commercial Street and then a little later in the kitchen of the lodging house. Earlier that day, Stride had cleaned the kitchen of the lodging house and had received 6d from Tanner as payment (In her inquest testimony, Tanner claimes that she took 4d from Elizabeth as payment for a bed, but also says that Stride did not pay for a bed on the Saturday).
She described Elizabeth Stride as "a very quiet and sober woman".[1]
References
↑ Inquest report, The Times, 4th October 1888