Thomas Bowyer
From Jack the Ripper Wiki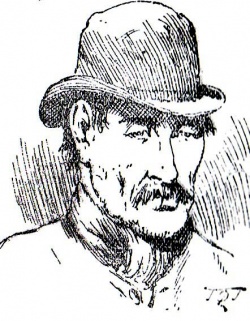 Witness at Mary Jane Kelly's inquest.
Discovery of Kelly's body
Thomas Bowyer (also known as 'Indian Harry') was employed by John McCarthy and resided at 37 Dorset Street. He discovered Kelly's body and was therefore called upon to give a statement the same day, 9th November 1888:
"..at 10.45am 9th instant, he was sent by his employer to number 13 room Miller's Court, Dorset Street, for the rent, he knocked at the door, but not getting any answer he threw the blinds back and looked through the window which was broken and saw the body of the deceased woman who he knew as Mary Jane, seeing that there was a quantity of blood on her person and that she had apparently murdered he immediately went and informed his employer, Mr McCarthy who also looked into the room and at once despatched Bowyer to the police Station Commercial Street and informed the Inspector on duty. (Insp Beck) who returned with him and his employer who had also followed to the Station. He knew the deceased and also a man named Joe, who had occupied the room for some months past."
He appeared at the inquest on 12th November adding little of significance to his initial statement, short of specifying which window he had looked through (referring to plans produced) and that he had seen Mary Jane Kelly drunk only once before. He did, however, suggest that McCarthy had accompanied him to the station and returned with him and the police to Miller's Court.[1]
Walter Dew later gave an account of Bowyer's arrival at Commercial Street Police Station:
If I remember rightly it was between ten and eleven o'clock in the morning that I looked in at Commercial Street police station to get in touch with my superiors. I was chatting with Inspector Beck, who was in charge of the station, when a young fellow, his eyes bulging out of his head, came panting into the police station. The poor fellow was so frightened that for a time he was unable to utter a single intelligible word.
At last he managed to stammer out something about 'Another one. Jack the Ripper. Awful. Jack McCarthy sent me'. Mr McCarthy was well known to us as a common lodging house proprietor.
'Come along Dew', said Inspector Beck and gathering from the terrorized messenger that Dorset Street was the scene of whatever had happened, we made him our pilot, as we rushed in that direction, collecting as many constables as we could on the way.[2]
Although Bowyer claimed to have been sent to Miller's Court at 10.45am, the police recorded the discovery as being at 10.30am - also a market porter leaving the court at 10.30am said that the police were already in attendance. It should be noted that Dr George Bagster Phillips was sent for at 11.00am.[3]
Other reported sightings
At the inquest, Bowyer testified that he had last seen Kelly alive the previous Wednesday afternoon, 7th November, in Miller's Court[4].
However, other press reports claimed that he had seen a man speaking to her on "Wednesday night." The man was said to resemble the description given by Matthew Packer. "He was, perhaps, seven or eight-and-twenty, and had a dark moustache, and very peculiar eyes. His appearance was rather smart, and attention was drawn to him by his showing very white cuffs and a rather long white collar, the ends of which came down in front over a black coat. He did not carry a bag."[5]
Another report stated that he visited Miller's Court several times on the night of the murder to fetch water from a tap there, the final visit being at 3 a.m. The same report said that early on Friday morning he saw a man, "whose description tallies with that of the supposed murderer," and whom he had described to Inspector Abberline and Inspector Reid.[6].
Biography
Thomas Bowyer has not been definitely identified in other records. Newspaper reports described him as a pensioned soldier[7], and say that he had travelled a great deal and formerly lived in India[6]. Some press reports[6] and Walter Dew's memoirs described him as a young man, but the contemporary illustration suggests he was middle-aged.
One possible candidate was born c.1825 in Mitcham, Surrey, and recorded as a pauper inmate of Shoreditch Workhouse in 1891[8].
Another possibility is a Thomas Bowyer who was born in Clapham in 1847, served in the Royal Artillery (including 15 years' service in India) and was discharged as medically unfit in 1886. According to his discharge papers he intended to reside in Stonehouse, Plymouth, but he may have been the same Thomas Bowyer whose death was registered in Wandsworth in early 1889[9].
References