Fashion Street
From Jack the Ripper Wiki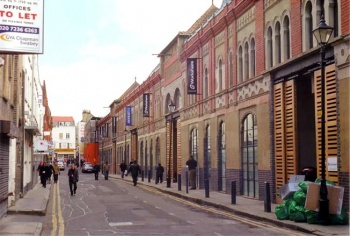 London E1 (Spitalfields)
Thoroughfare running east-west from Brick Lane to Commercial Street. Fashion Street marks the northern boundary of the original Fossan Estate, owned by brothers Thomas and Lewis Fossan. The southern side was laid out c.1655 and it was originally known as Fossan Street, which was later corrupted to Fashion. The northern side was built by trustees of the Wheler estate in about 1669[1]. White's Row was at one time depicted as a natural continuation of the street and was known as New Fashion Street in the 17th century.[2]
By the late-Victorian era, Fashion Street had fallen into decline alongside other streets on the estate and was considered part of the area's worst slums, especially the south side which was connected to notorious Flower and Dean Street by a number of squalid courts and passages[3]. There were also pubs at each end of the street; the Queen's Head on the northern corner with Commercial Street, the 'George and Guy' on the northern corner with Brick Lane and the 'Three Cranes' opposite - none of these premises are now pubs. It was also home to the Fashion Street Sphardish Synagogue in New Court which had around 80 members and closed c.1906.[4]

At about 1.00am, 30th September 1888, as she was being released from custody at Bishopsgate Police Station, Catherine Eddowes gave her name and address as Mary Ann Kelly of 6 Fashion Street[5]. The actual site of 6 Fashion Street has been empty for many years.

In 1905, builder Abraham Davis took a lease of a site which comprised most of the south side of the street and built what became known as the Fashion Street Arcade. He had intended to build two covered arcades with cross-passages, to provide 250 small lock-up shops, a reading-room and bathrooms, but the finished building only comprised of 63 shops. The scheme proved a failure, and by 1909 Davis had been ejected for non-payment of rent. In the same year a part of the arcade was reconstructed as a factory[6]. It has had many uses since and is now (2009) home to several companies, although a small part of the building has been demolished.
Playwrite Arnold Wesker lived in Fashion Street as a boy[7] and later used it as the setting for his play Chicken Soup with Barley, written in 1957.
Much of Fashion Street retains its older buildings, most notably the arcade and a row of dwellings (built c.1900) on the north side. Many have been redeveloped internally and serve as appartments, office space or art galleries.
References